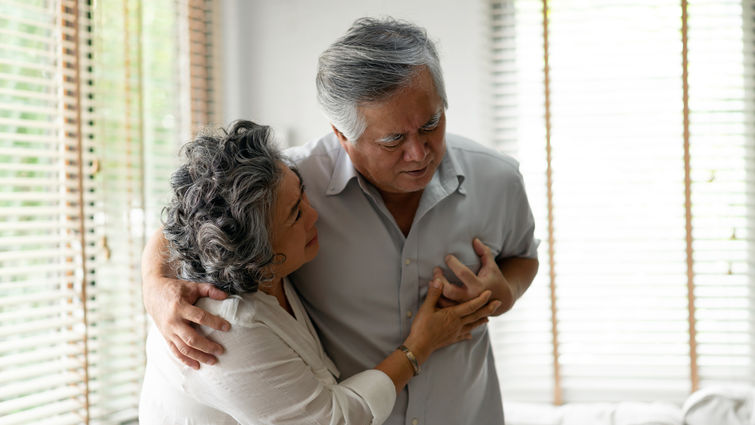 Loma Linda University Medical Center has implemented a new lifesaving protocol for heart attack patients in cardiogenic shock, a move that has increased the survival rate of heart attack patients who would normally have a high mortality rate. 
The protocol includes first identifying that a heart attack patient is in cardiogenic shock, which occurs in approximately 1 in 10 heart attacks. Cardiogenic shock is a critical condition in which blood is not flowing sufficiently through the body, and in this study, the patient's hearts are too weak to effectively pump due to damage from the heart attack. Then without any delay, an interventional cardiologist will insert an Impella pump (an FDA-approved device) through a catheter in the groin. The electrical pump  helps support the pumping action of the heart, ensuring blood flow to the rest of the patient's organs. Doctors can then treat the cause of the heart attack either by inserting a stent, removing a clot or taking other necessary action. Once the procedure is complete, physicians follow strict post-operation care guidelines.
Loma Linda University Medical Center is the second hospital in California to adopt the protocol.
Prior to this new process, physicians were left to decide proper steps and what post-op care to provide. Patients in cardiogenic shock often weren't diagnosed in time or at all, thus prolonging or missing care. 
Aditya S. Bharadwaj, MD, FACC, interventional cardiologist at LLUMC, was instrumental in the institute's implementation of the lifesaving National Cardiogenic Shock Initiative protocol. As the site's principal investigator, he says he is excited that more patients' lives will be saved.  
"There used to be considerable variation in practice when it came to treating these very sick patients," Bharadwaj said. "By implementing this successful protocol, we have eliminated these differences and have made considerable progress in terms of survival." 
Before deploying this new protocol, the survival rates for heart attack patients who arrived at hospitals in cardiogenic shock was around 50%. The survival rate has increased to 72% after implementation of this protocol, according to the National Cardiogenic Shock Initiative study. 
Loma Linda University Medical Center is one of 65 sites enrolled in the study. Participating institutions used the protocol to treat 171 patients — 77% of whom were male, and the average age was 63 years. Researchers announced the trial results on May 21 at the Society for Cardiovascular Angiography and Interventions (SCAI) 2019 Scientific Sessions.
William O'Neill, MD, medical director of the Henry Ford Health System Center for Structural Heart Disease, said he expects continued improvements that could raise the survival rate to higher than 80%. 
"Even though every hospital has their own standards, we found that when physicians across the country recognize the signs of shock early and follow this protocol, it can save lives," O'Neill said. "We're honored to be part of this lifesaving work."