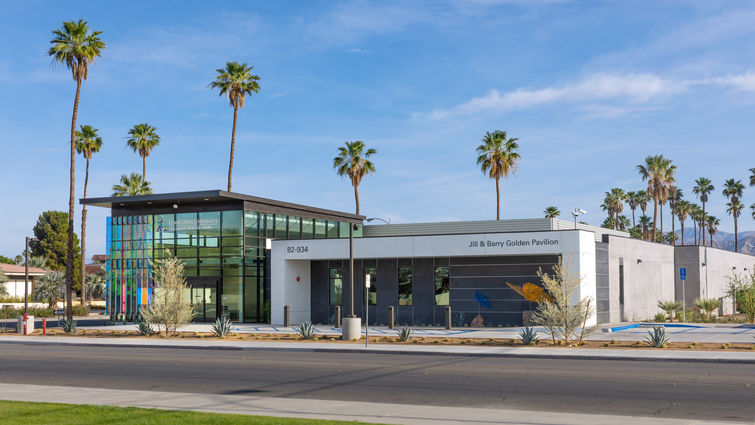 This week marks the one-year anniversary of Loma Linda University Children's Health – Indio opening its doors to serve the Coachella Valley community. Over the past year, the clinic has expanded its services while partnering with SAC Health System (SACHS) in order to provide accessible, wholistic care for the children and families of the local area.
"We are thrilled to be celebrating the one-year anniversary of our clinic location in Indio," said Scott Perryman, MBA, senior vice president and administrator of Loma Linda University Children's Hospital. "During the past year, we have grown to see more than 20 patients per day and are the dedicated medical home offering lifesaving care to approximately 1,000 children in the Coachella Valley. We are grateful for the support of the community as we continue to expand services and work to keep each child in the Coachella Valley healing, healthy and happy."
Housed in the Jill and Barry Golden Pavilion, the clinic is the largest pediatric clinic in the area at nearly 13,000 square feet with 20 patient exam rooms, three dental chairs and an X-ray room. Approximately 150 children are served each week with appointments between general pediatrics and the various sub-specialties.
LLU Children's Health – Indio offers a broad scope of pediatric services including:
General pediatrics: acute same-day sick visits, well-child and well-adolescent care, sports physicals and care for complex medical conditions
Behavioral health counseling
Pediatric gastroenterology
Pediatric neurology
Pediatric endocrinology
The clinic is continuing to add new services based on community assessment and need. Some of those new services will include:
Pediatric cardiology
Pediatric pulmonary allergy
Pediatric genetics
Dentistry
During the past year, LLU Children's Health – Indio partnered with SACHS to better reach the community. Like Loma Linda University Children's Health, SACHS is a non-profit organization whose mission and vision includes serving the underserved community.
"Loma Linda University Children's Health is thrilled to have been able to bring this new facility to the Coachella Valley and partner with SACHS to better serve the children and families that reside here," said Alexandra Clark, MD, division chief of general pediatrics at Loma Linda University Children's Health. "These parents and their children have always been a part of the LLU Children's Health family, but by centrally locating closer to them, we're able to meet their needs on their doorstep instead of our own."
According to Clark, LLU Children's Health and SACHS' partnership is empowered by SACHS unique status as a federally qualified health center. This allows them the ability to utilize federal resources and bring expanded services such as dental and behavioral health services to the clinic. LLU Children's Health provides the physician and medical expertise for clinical care, while the partnership with SACHS allows the clinic to use a greater range of services and offer whole-child and whole-family care in one central location.
Apart from the medical care provided to the local community throughout the past year, LLU Children's Health – Indio is working to promote literacy and learning along with health. One of the ways the clinic is currently striving towards this goal is through Scooter's Bottomless Bookshelf. Every child that comes for a clinic visit can take home a book of their choice from the bookshelf — lovingly named after Jill and Barry Golden's dog, Scooter. In addition, the clinic has partnered with First 5 Riverside to have a Reach Out and Read program where children aged six months to five years are given an age-appropriate book in English and Spanish when visiting the clinic for medical care.
To learn more about the services provided at LLU Children's Health – Indio, contact us. If you're interested in helping with or donating to programs such as Scooter's Bottomless Bookshelf, visit our website.