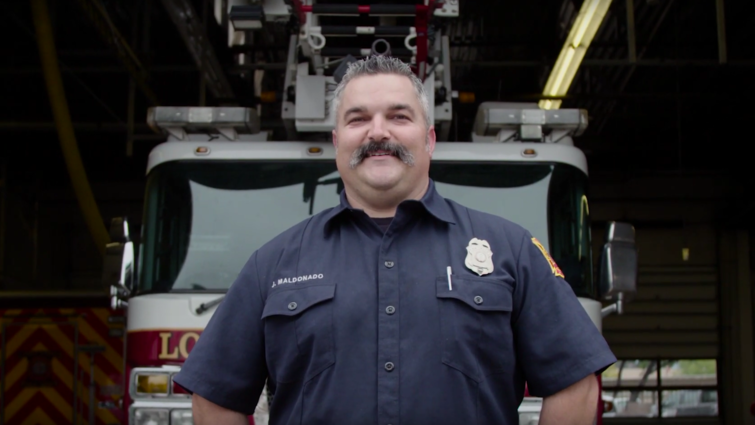 Josh Maldonado, an engineer for Loma Linda Fire Department, was recognized with the Hometown Hero Award at the 26th annual Foundation Gala on Thursday, February 21.
Maldonado has been a key player in raising over $50,000 through the annual Tip-a-Firefighter at The Old Spaghetti Factory, an event that he initiated in 2012. He continues to volunteer for a full day at the event, which is hosted at the Redlands and Rancho Mirage restaurant locations.
With two kids of his own who had both been treated at Loma Linda University Children's Hospital, Maldonado has been committed to giving back to the hospital that has been integral in his family's life. He volunteers at numerous events, including the K-Froggers for Kids Radiothon, Gingerbread Village, Dishes for Wishes and the Quaid Harley-Davidson Toy Run. He has also coordinated thousands of dollars' worth of toys to be donated to patients.
Maldonado not only gives of his personal time, but he also supports Children's Hospital with an annual monetary donation. He shares his passion of giving back with others as well, being the voice for those who don't have one, something that was instilled in him as a child.
"My family has always been one to help out where we can," Maldonado said. "As a kid we always outreached in the city parks and at events. I'm trying to pass that on to my kids — that we can make life better for people, even if it's just opening a door for someone."
An Inland Empire native, Maldonado grew up in Colton. He married his high school sweetheart, Katie, 20 years ago, and they now reside in Grand Terrace.
After going through the explorer program at Colton Fire Department during high school, Maldonado attended Crafton Hills College Fire Academy. He was a firefighter at San Bernardino County Fire and then Fort Irwin before coming to LLFD in 2007.
"I feel very lucky to do what I do every day," he said. "To be able to put this uniform on — to be able to have the platform to do things is humbling for me."
According to Tiffany Hoekstra of the Loma Linda University Children's Hospital Foundation, Maldonado is a true champion for children.
"He is always right there willing to help without any reservation," Hoekstra said. "Josh is so incredibly humble and never seeks recognition for all that he has done, but from the bottom of our hearts we know he truly deserves it."