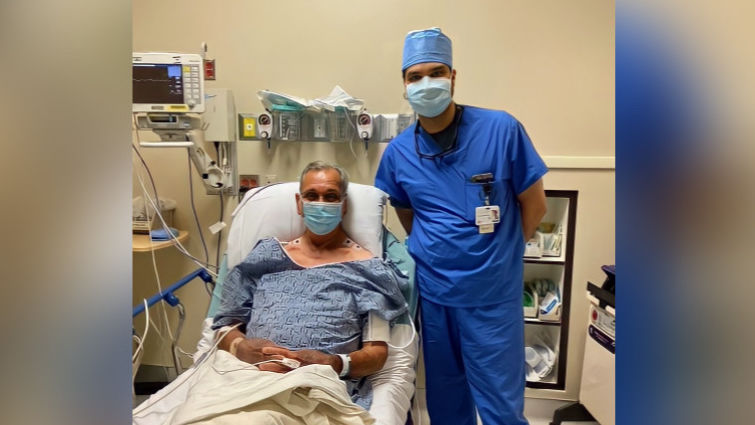 Interventional cardiologist and director of structural heart interventions, Niraj Parekh, MD, successfully completed the first Amulet procedure in Riverside County on April 28 at Loma Linda University Medical Center — Murrieta.
This permanent implant placed in the left atrial appendage prevents blood clots formed in the heart from entering the bloodstream and potentially causing a stroke in atrial fibrillation (Afib) patients. His team welcomes the breakthrough technology to ensure whole-person care for patients who do not qualify for other lifesaving procedures. Parekh says this minimally invasive procedure is a milestone for the Murrieta campus and surrounding community.
Compared to other Afib closure devices, the Amulet can adapt to various sizes and doesn't require patients to be on blood thinners after surgery. Patients' anatomy or inability to be on blood thinners may disqualify them from receiving some devices, leaving many patients without answers and taking blood thinners for years if safe to do so.
Troy Duff, 74, the first Amulet recipient at LLUMC Murrieta, says he is grateful for Parekh considering him when he was disqualified from another procedure.
"When we found out I wasn't qualified for [another device], Dr. Parekh asked me to be his patient because he knew the Amulet would help me," Duff says. "He knew I didn't like the blood thinners. I was so excited not to take them anymore."
Bleeding and bruising from nicks while on blood thinners were no longer inconveniences Duff encountered after his procedure. Duff spent one day in the hospital and experienced little to no downtime after receiving this device.
Parekh says the Murrieta campus has done a great job learning about and advancing cardiovascular procedures. Medical teams had been following the latest developments and were the first to use the Amulet as a specific service in the county.
"It's been revolutionary," Parekh says. "I'm so proud to see this program grow its way to the top."
Loma Linda University Medical Center – Murrieta is one of the approximate 80 locations offering this service in the U.S. and one of four locations in Southern California. To learn more about the services offered, visit here.