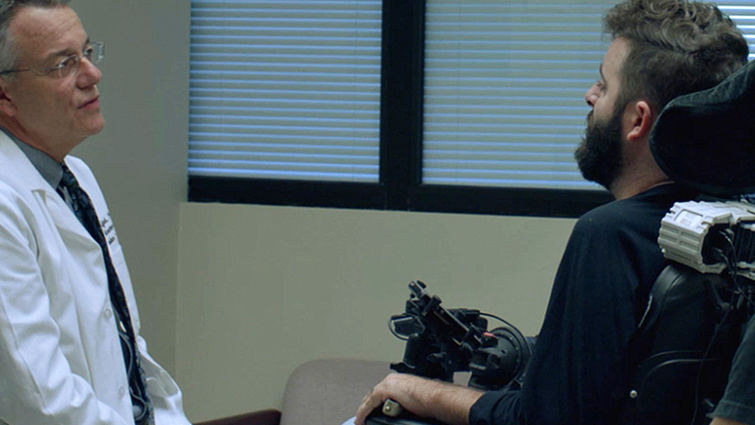 The Center for Restorative Neurology at Loma Linda University Health has received recognition as a Certified Treatment Center of Excellence from the ALS Association, a designation that marks the Center as one of the select few in the nation that meets the highest standards of evidence-based, multidisciplinary care and services.
At the Center, ALS patients — people with suspected or definite diagnoses of amyotrophic lateral sclerosis, or Lou Gehrig's disease — can see all their care providers in a single appointment, unlike most treatment programs, which require patients to visit different providers and locations.
Medical Director Jeffrey Rosenfeld, MD, PhD, says the center received notification of the designation last month.
Rosenfeld and his staff have been working to secure the designation since he joined the department three years ago. He has established similar programs throughout his career at other organizations. He brought the philosophy and the program to Loma Linda, largely drawn by the institution's mission of whole person care.
Rosenfeld says the center is designed to make care simpler for patients with ALS and other neurodegenerative diseases. He notes that, "there are hopeful alternatives for patients at every stage of disease progression. One early goal of the program is to get the patients to embrace and expect that."
"The idea of having comprehensive care in one place seems so obvious," Rosenfeld says. "Patients who have the most difficulty getting around shouldn't have to go multiple places for their care."
At the Center, the convenience of one-stop-care means physicians, physical and occupational therapists, clinical counselors, respiratory therapists, speech pathologists, nutritionists, orthotics professionals and other providers are all located under one roof. Rosenfeld says on any clinic day there are usually representatives from other support organizations — such as the ALS Association, the Muscular Dystrophy Association or the Myasthenia Gravis Foundation. "Patients are likely to see 10 individuals on a patient visit, not all of whom are Loma Linda University Health employees," he said.
Rosenfeld says the Center stands out in other significant ways. He says that at other centers, the care team may only get together once a month to focus on neurodegenerative diseases. But the Center for Restorative Neurology Team is full-time and available to patients five days a week. "Synergy is the core benefit of our center," he says. "When your co-workers are all physically next to you, traditional work silos vanish. The brainstorming is phenomenal."
Another benefit of having all the staff in one place is that patients have improved access to the staff, he says. "Sometimes a patient can't find me because I'm treating another patient," Rosenfeld says. "But if they tell one of the other team members that they are trying to get in touch with me, they only have to go down the hall to tell me."
"Patients frequently come to us with fear, the most powerful of all disabilities," Rosenfeld says. "The most important thing that happens from having so many resources in one place is the sense of hope that is conveyed, and hope is the most powerful treatment for fear."
"They're afraid of what's going to happen to them next," Rosenfeld says. "The only treatment for addressing their fear is hope, and that comes when patients experience the opportunity of getting help at a place like this."
He says that happens when patients come to the center with a seemingly insurmountable problem. Maybe they have lost their ability to climb up the stairs to a favorite restaurant, or to get inside a ballpark to watch a grandson play baseball.
"My goal is that they won't lament over what happened," Rosenfeld says. "I want them to say to us, 'What are you going to do about this?' Whether the issue is access, disability or something else, we will problem-solve it for them."
The Center is one of only 58 ALS Association Certified Treatment Centers of Excellence in the United States. The ALS Association is dedicated to fighting the disease, raising funds and promoting research, education, public awareness and appropriate public policy.
The Association's clinical care and treatment standards are based on the American Academy of Neurology (AAN) Practice Parameters. The association requires that centers desiring to be certified as a Center of Excellence must successfully complete a comprehensive site review. Achieving certification through successful completion of the program's robust clinical and administrative reviews confirms to people living with ALS and their family members the validity and comprehensiveness of the Certified Treatment Center of Excellence's standards of quality and implementation of best practices.
The Center for Restorative Neurology is located inside the Neurology Clinics of the Faculty Medical Group at 11370 Anderson Street, Suite B-100, in Loma Linda. For additional information or to schedule an appointment, please call 909-558-5978.