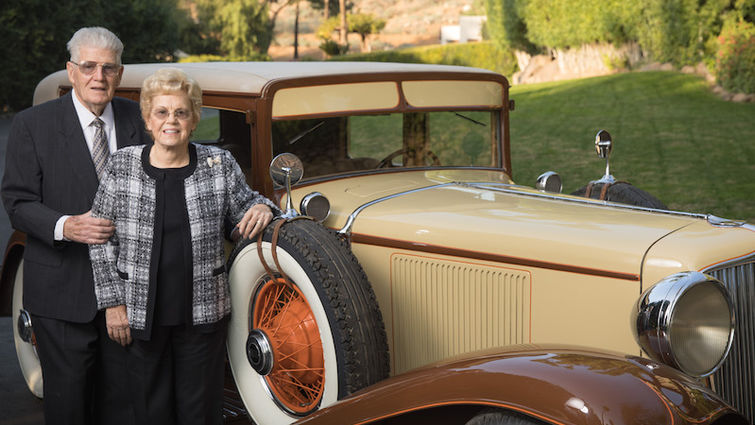 The auction is already underway, but the one we are most interested in isn't happening Saturday night, and 100 percent of the hammer price will go to Loma Linda University Children's Hospital (LLUCH)
A beautiful 1930 Cord L29 will go to the highest bidder at the Barrett-Jackson car auction off thanks to the benevolence of one Loma Linda couple.
Carlton and Raye Lofgren donated their 1930 Cord L29 to the hospital.
Long time supporters of Loma Linda University Health, the Lofgrens recently moved to Loma Linda from Riverside, which they called home for over 50 years.
The couple affirmed the quality condition of the car, which has been in their family since 1982.
"It's been in parades, weddings, and we've used it during special family events," Mrs. Lofgren stated.
"But like any car, you have to drive it to keep everything working," Mr. Lofgren added.
Originally belonging to the parents of Mrs. Lofgren, she said they were part of the motivation behind the donation to LLUCH.
"When we were talking about what we could do for Children's Hospital," she said, "we thought that would please us and it would please them."
Mr. Lofgren said that he and his wife could think of no better way to utilize the value of this car than to give it to Children's Hospital. "That culminated in the decision to do this," he said. "We talked to everyone in the family and they were in complete agreement."
The Lofgren's will be attending the auction, and are anticipating a successful event.
Also traveling to Scottsdale for the event will be Ryan and Brittany Stuit, along with their quadruplets who were born at LLUCH in Sept. 2014. Their doctor, Courtney Martin, MD, will join the Murrieta family as a representative of the innovative, lifesaving care that takes place at LLUCH every day.
Brittany Stuit carried her quadruplets until 32 weeks, but says it would not have been possible without the care that was provided to her at LLUCH. "I owe everything to Loma Linda," she said. "I owe being a mom to them."
Three of the Stuit's quadruplets spent up to six weeks in the NICU, and one stayed nine weeks.
This will be the fourth time LLUCH will have benefited from Barrett-Jackson. Most recently in Sept. 2013, a 1957 Lincoln Continental Mark II was donated to the hospital by another Riverside couple, Tom and Candace Spiel. That car sold for $700,000 at the Las Vegas auction and earned the highest bid at the event, all of which went to LLUCH.
To date, Barrett-Jackson, a Scottsdale-based auction company, has raised over $91 million by selling cars for a long list of charitable causes.
Nine vehicles are being offered for charity sales during the 46th annual Barrett-Jackson Scottsdale auction this month.
Like other charity cars, 100 percent of the vehicles hammer price will go toward the benefiting charity.
About the Cord L29 (courtesy of Barrett-Jackson):
When the Great Depression claimed E. L. Cord's industrial empire, the Auburn, Cord and Duesenberg models went with it. The Cord L29 was perhaps one of the most distinctive cars ever produced, thanks to the extra-long bonnet necessitated by the Straight-8 engine and front-wheel-drive system. Though cloaked in various bodies, the long low lines of the L29 are unmistakable.
Introduced in the summer of 1929, the Cord L29 was a very high-tech vehicle for its day. Its front-wheel drivetrain was inspired by the Miller-powered 1927 Indianapolis 500 car built by Cornelius Van Ranst and Tommy Milton, and was the first American front-wheel drive production car. Only 5,010 L29s were produced, and each sold for a little over $3,000.
Today, only a handful of the L29 sedans exist. This beautifully kept example has a 3-speed manual transmission mated to a 299/125hp 8-cylinder Lycoming engine.