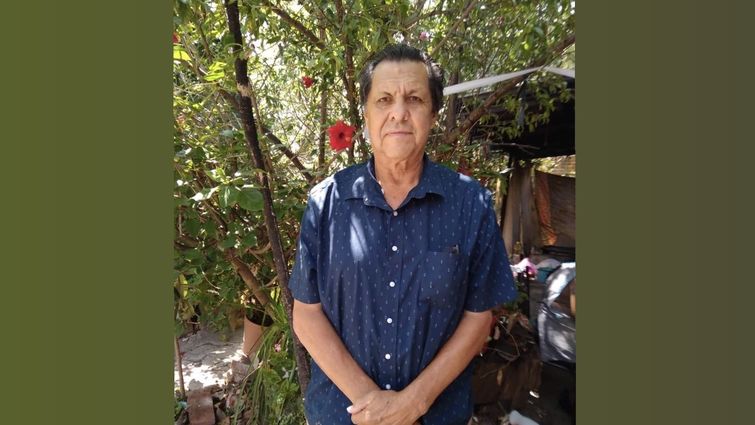 64-year-old Rodrigo Gallegos checked into the Loma Linda University Emergency Department with a tough, bloated stomach and a high fever. Within 48 hours, the Sarcoma Disease Management Team at LLU Cancer Center removed the deadly disease ailing Gallegos — a fifty-pound tumor in his abdomen. Last year's successful surgical feat granted Gallegos the chance to retrieve a healthier, longer life.
"Mr. Gallegos's ability to function was quickly dissipating," said Mark Reeves, MD, PhD, director of the Cancer Center and one of the surgical oncologists who performed the procedure. "The sheer size of his tumor was deadly, and removing it has changed his life completely."
The type of tumor Gallegos endured is known as a sarcoma, an uncommon group of cancers that arise in the bones and connective tissue. This Sarcoma Awareness Month, Gallegos and Reeves share their experience to heighten awareness about the disease and highlight the expertise available to help patients.
Reeves said Gallegos's sarcoma likely began forming several years before the surgery, but incremental changes from sarcoma's slow growth are not always immediately evident to patients.
"The types of sarcomas that grow inside the abdomen don't usually grow quickly," Reeves said. "So what happens is that the patient wakes up every day, looks at themselves in the mirror, and don't seem to look any different than they did yesterday. Over time, growth like this can become part of their normal body image."
Gallegos said he sensed his stomach grow and harden in November 2020 but received a misdiagnosis upon consulting his primary physician. Eventually, Gallegos obtained a CT scan in early 2021 that revealed a large sarcoma in his abdomen. He was referred to a surgeon to remove the mass, but a combination of paperwork and pandemic spikes caused a delay.
The mass was sapping his life away.Dr. Mark Reeves
Meanwhile, Gallegos said his tumor enlarged, and his health plummeted. He developed sepsis-like symptoms of fever, fatigue, and nausea, though these were not induced by flu or bacterial infection.
Instead, Reeves said the symptoms hailed from the tumor itself, secreting cytokines that cause the body to react similarly to an infection. The symptoms led Gallegos to visit LLU Emergency Department in the summer of 2021, where the care team advised him to keep his upcoming appointment with an external surgeon for the sarcoma removal.
But by the following weekend, Gallegos said he had already grown much sicker and rechecked into LLU Emergency Department. This time, the emergency medicine team called on surgical oncologists, including Reeves, to intervene.
In 48 hours, Reeves swiftly assembled a team to convene and create a thorough plan for surgical removal of the tumor. Thanks to LLU's fellowship in surgical oncology, Reeves said the institution benefits from an unusually high number of experts in sarcoma, and he was able to call on attending staff with the specific expertise to participate in this case.
"We had to move quickly because Mr. Gallegos's health would not improve until we removed the tumor," he said. "The mass was sapping his life away."
Reeves said that the enormous tumor had to be removed in a single piece to ensure Gallegos's long-term disease management and survivorship. In addition, high-resolution imaging enabled the team to better prepare for the technicalities of removing the massive tumor along with its thousands of connections to the abdominal cavity.
"The combination of high-resolution imaging together with careful surgical planning that plans resection from beginning to end before the operation ever begins is probably the most important predictor of whether a patient will be cured or not from a sarcoma," Reeves said.
In a 20-hour surgery, Reeves and the care team removed the sarcoma tumor, the left kidney and testicle, and part of the colon to remove all traces of cancer in Gallegos's body. Recent scans reveal no evidence of metastatic or recurrent disease for Gallegos.
I am a walking miracle.Rodrigo Gallegos
Though his stay at LLU was not easy, Gallegos said his interactions with LLU care team members across various disciplines helped him maintain a positive attitude from pre-op through recovery.
"I was treated very well by everyone," he said. "I had all the help I could get from the wonderful people at this hospital."
He interacted with care teams from at least 12 different disciplines: starting with emergency medicine, infectious disease, surgical oncology, and anesthesiology. During recovery, physical and occupational therapy helped him regain his walking abilities. Dietary services, nutritional support, and gastroenterology care coaxed his intestines to function after being surprised by a heavy tumor. Respiratory therapy ensured Gallegos could breathe after surgery, and speech pathology followed to help him adjust to speaking after ventilator removal. Bedside nurses attended to Gallegos and his needs throughout.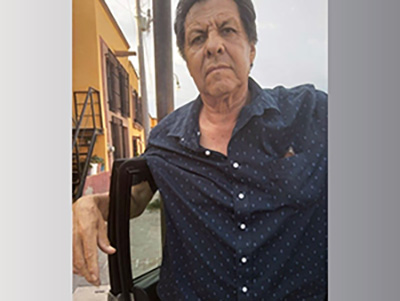 "I am a walking miracle," Gallegos said. "I'm grateful to be alive."
Since recovery, Gallegos has been enjoying his retirement after decades of running a store for truck accessories and singing Spanish music at restaurant venues. With this newfound time, Gallegos has also traveled to Nebraska for his brother's restaurant grand opening and to Mexico to visit his father and other relatives.
He continues to work with Reeves as he undergoes long-term surveillance for sarcoma at the Cancer Center. Reeves said raising awareness about sarcoma can help patients and loved ones catch the tumor earlier.
"If you have a mass or growth that just doesn't seem right, even if you get used to it, you should have a physician look at it and make a decision with you about whether it needs imaging or a biopsy," Reeves said. "Sarcomas found and treated at an earlier stage will lead to better outcomes. But even if they are found at a later stage, there is hope that they can be successfully treated."
Loma Linda University Cancer Center offers patients comprehensive care that gives them the best opportunity to face cancer. To learn more about all of the resources offered to cancer patients at the center, visit lluh.org/cancer-center.