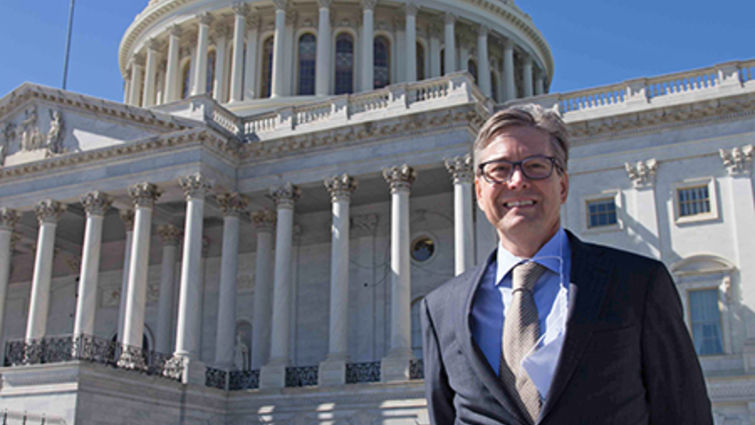 When the U.S. Congressional Neuroscience Caucus hosted the sixth annual Brain Mapping Day briefing March 8 in Washington, D.C., a Loma Linda University professor was one of only seven experts from across the nation who spoke.
Warren Boling Jr., MD, chair of neurosurgery at Loma Linda University Health, illuminated the topic of "Intraoperative Brain Mapping for Brain Tumor and Epilepsy."
Much of what he presented he drew from Loma Linda's data about the rapidly evolving use of functional MRI and diffusion tensor imaging to make brain surgery safer and more effective.
"We had a good reception from our legislative members who attended and then had excellent follow up conversations with staff members for California Sen. Kamala Harris," Boling said.
"We also had a wonderful meeting with U.S. Rep Pete Aguilar, talking about Loma Linda University Health and the great things we're doing for the Inland Empire."
The other speakers at the briefing also presented "groundbreaking and forward-thinking advances in the neurosciences," Boling said.
He is also president-elect for the Society for Brain Mapping and Therapeutics, which organized the meeting. His one-year term will begin in April, marking the first time someone from Loma Linda has held such a high position with the society.
Boling summarized, "It was important for our legislators to hear about the obstacles and difficulties that we're having in improving patient care as well as the advances we're making and the exciting new things that are coming to improve the lives of our patients with neurological diseases.
 "In the future we can tackle more complicated problems using these advanced mapping and imaging techniques."