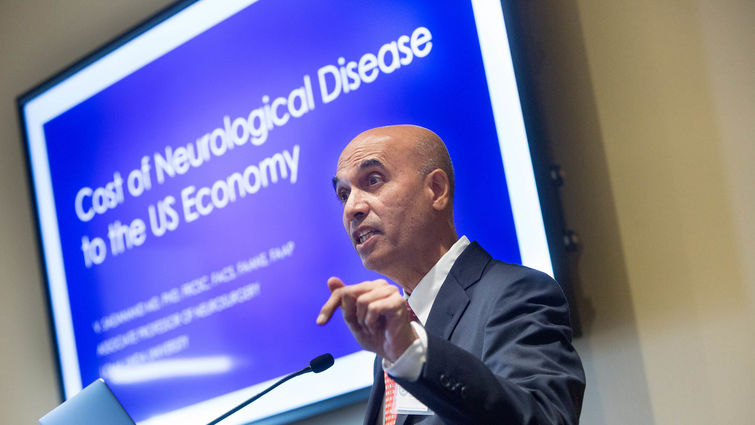 Two Loma Linda University (LLU) neurosurgeons said the economic impact of treating patients with neurological disorders is greater than treating other conditions — such as cancer and cardiovascular diseases — and that more investment in treatment and easing regulations could yield large benefits to both patients and society's healthcare costs.
Venkatraman Sadanand, MD, PhD, associate professor at LLU School of Medicine and attending pediatric neurosurgeon, and Daniel J. DiLorenzo, MD, PhD, MBA, assistant professor at LLU School of Medicine, made their remarks while presenting to the Congressional Neuroscience Caucus yesterday. The two were among six presenters at the 7th Annual Brain Mapping Day, held on Capitol Hill in Washington, D.C. this year in the Rayburn House Office Building.
Sadanand and DiLorezno represented Loma Linda University Health during a twenty-minute presentation, highlighting the global burden of neurological disorders and the need to provide patients with the technologies that will help them return to the workforce.
According to Sadanand, neurological disorders account for 13 percent of the globe's economic impact of diseases, while cardiovascular accounts for 3 percent and cancer 10 percent.
Sadanand said the annual cost to take care of patients with neurological disorders is approximately $400 billion and is expected to exceed one trillion over the next decade.
Sadanand urged the caucus to reexamine how current dollars are allocated and to consider the following: "How do we incentivize our researchers to bring products to our patients?" According to Sadanand, the industry is increasingly working across companies to work collaboratively on discovering treatments for patients and the products they need to combat various diseases.
"The problem is we are not able to bring the research to the patient at this time," Sadanand said. The associate professor purposed the need for innovative approaches to therapeutics, including implementing a Brain Technology and Innovation Park.
DiLorenzo approached the topic of neurosciences from an investment angle and the value of investing in new technologies that would reduce costs, increase regulatory efficiencies and improve outcomes for patients living with a neurological disorder.
"Not only is it good for people, but good for the system because it's the fiscally responsible thing to do," DiLorenzo said.
Among all other disorders, neurological disorders — including dementia, epilepsy, stroke and Parkinson's disease — likely have the highest impact on the quality of life for patients and return on investment for treatment, DiLorenzo said. The goal is to take individuals with neurological disorders and return them back to work, while contributing to the system. "It's a multi-dimensional return on investment, and that's a common theme among neurological disorders," DiLorenzo said.
This was the first time both Sadanand and DiLorenzo attended the Annual Brain Mapping Day. Throughout the event, the two met with various representatives to continue the conversation on neuroscience technologies. Both professors plan to maintain contact with members of the caucus and continue to educate and lead theway in new research and technologies for improving neurological disorders.