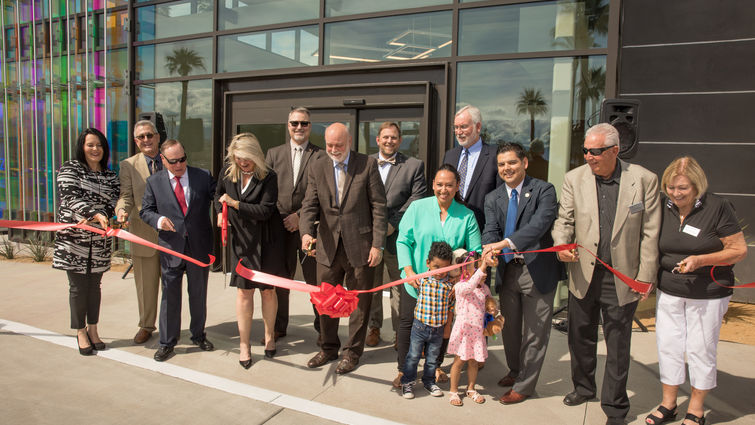 The Coachella Valley community is officially home to Loma Linda University Children's Health – Indio, Jill and Barry Golden Pavilion, the largest pediatric clinic in the area. The grand opening was celebrated with a ribbon-cutting ceremony and the All about Kids Health Expo, Sunday, March 11.
Richard H. Hart MD, DrPH, president of Loma Linda University Health, shared his excitement as Loma Linda University Health expanded its service area into the Coachella Valley to provide healthcare that is accessible and available to those who need it most.
"We are committed to this valley. We are committed to you," Hart said. "We are committed to your children and the leaders they will become for this region."
Nearly 400 individuals attended the private ribbon-cutting ceremony, including Michael Wilson, mayor of Indio, and Congressman Raul Ruiz, MD, who emphasized how proud he was to work with Loma Linda University Health to get the Indio project off the ground and see it through to fruition.
"Families will now have access to critical pediatric services right here in the east valley, strengthening the health of our entire community," Ruiz said. "Expanding and ensuring access to healthcare for everyone, regardless of where you live or how much you make, has been my life's mission. Today is an important milestone to realizing our shared vision for a future where everyone has access to the affordable care they need, when they need it."
Following the ribbon-cutting was the inaugural All about Kids Health Expo, which was attended by over 1,000 community members to enjoy free healthy fun for the whole family, including giveaways, activities and food trucks.
LLU Children's Health – Indio officially opened its doors to the community Monday, March 12, offering pediatric primary care services.
In the coming months the clinic will roll out other services, such as urgent care, telemedicine, dentistry and other specialties. The nearly 13,000-square-foot building houses 20 patient exam rooms, three dental chairs and an X-ray room.
The clinic is also home to a bottomless bookshelf, courtesy of Scooter Golden, to encourage reading and literacy. Any child who receives care at LLUCH – Indio will be able to take a book home.
To make an appointment or for more information about LLUCH – Indio, call 760-477-0733 or visit them on the web at lomalindakids.org/indio.