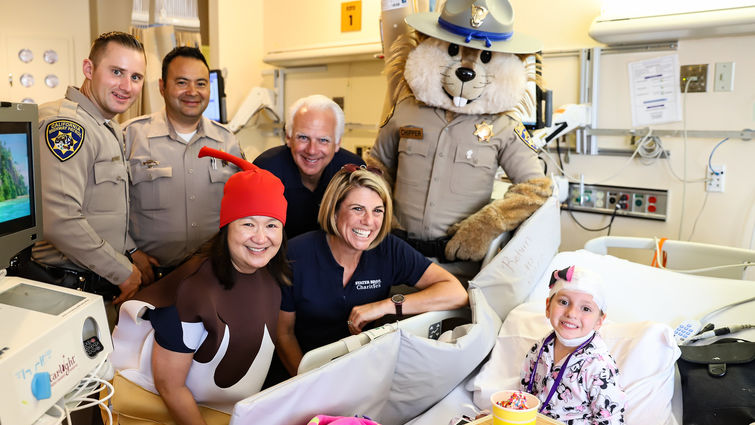 Stater Bros. Charities hosted an ice cream social for pediatric patients at Loma Linda University Children's Hospital last week, serving delicious treats to brighten the day for patients and employees. The event was held in the colorfully decorated Stater Bros. Activity Center room where members of Stater Bros. executive team, including CEO Peter Van Helden, and the organization's board spent their afternoon dressed up as giant ice cream cones.
Children who weren't able to travel down to the ground floor for the event weren't forgotten. Stater Bros. staff personally visited several LLU Children's Hospital units, passing out the sweet treats including Dreyers Ice Cream provided by Nestle USA, Stater Bros. Charities' bears and stuffed animals donated by the Frugal Frigate — a children's bookstore in downtown Redlands.
The California Highway Patrol – Inland Division also attended the event with their mascot, Chipper the chipmunk, visiting patients and taking photos.
Not only did Stater Bros. make the pediatric patients feel special, they also showed their gratitude to the staff of Children's Hospital by providing them with ice cream bars.
"Stater Bros. has been a longtime supporter of Loma Linda University Children's Hospital," said Nancy Negrette, chair and president of Stater Bros. Charities. "We hoped this joyous occasion would brighten the day for the children and the families of children receiving care at Loma Linda University Children's Hospital."
Scroll through the gallery below to see photos from the special day.