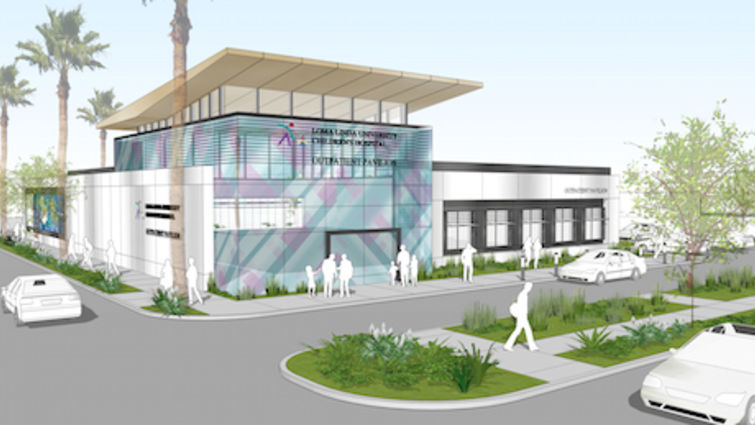 Loma Linda University Children's Hospital knows that one of the keys to healing is meeting the needs of the communities it serves. LLUCH has served the families in the Coachella Valley for over 23 years by providing high-quality health care services. Soon, many of these needs will be met a little closer to home.
The city of Indio will soon be home to the Loma Linda University Children's Hospital – Indio Outpatient Pavilion, which will house a pediatric specialty clinic, pediatric urgent care and the SAC Health System, offering primary and specialty care to families in the area.
Plans were officially unveiled Tuesday, Nov. 1 for the new building in Indio with a groundbreaking ceremony. City officials, community members, LLUCH patients and hospital leadership attended the event at the site of the new pavilion.
Loma Linda University Health President Richard H. Hart, MD, DrPH, welcomed attendees and shared plans for the new space.
"Today's celebration is a step forward toward providing the best possible health care to children and families in the Coachella Valley," Hart said. "Our hospitals and clinics are where our beliefs are put into action, where our knowledge, our expertise and our compassion come together to restore lives and families."
Hart added that this new outpatient pavilion is a central part of Loma Linda's comprehensive strategy for wholeness. "It is a bold vision. A vision of what is possible when we come together as a community to create the future for our children and their families."
He shared that Loma Linda University Health's longstanding partnership with SAC Health System continues to grow and announced that the clinic will be joining in on the move to Indio to provide whole family care to the community.
The SAC Health System has been working with Loma Linda University Health to provide health care to families for more than 56 years in the San Bernardino community.
"Our partnership has always worked so well because the mission of Loma Linda and SAC Health System are perfectly aligned," said Nancy Young, MHES, president and CEO, SAC Health System. "We believe everyone deserves exceptional health care."
Young stated that as the discussion about creating a local health care option for the children of the Coachella Valley grew, she started to see that SAC Health System could help support that goal.
"For a child to be well, their family must be on the same journey," she said. "We are excited to work with your community, and the service organizations currently providing care, so we can become part of the health care network in the Coachella Valley."
With over 135,000 children living in the desert region, the Indio Outpatient Pavilion will be a welcome addition to the Coachella Valley.
"The needs of this community are unique and complex," said Scott Perryman, senior vice president and administrator, LLUCH. "We are honored to bring you the best care this region has to offer right here to Indio where we can serve the highest population of children in the Coachella Valley."
Perryman said that focus groups were conducted with residents and parents of children in this region and revealed the need for a dedicated pediatric urgent care and crucial pediatric specialty services like pulmonology, neurology, cardiology and endocrinology to name a few. "Our plan is to bring you those services in late 2017 with the intention of growing the spectrum of care over time," Perryman stated, "ultimately, making this region a fully integrated partner in our pediatric health network."
With this variety of services, the Indio clinic will be able to accommodate more than 60,000 unique pediatric visits each year. Additionally, this project will create more than 40 new employment opportunities.
The pavilion will also offer an outpatient pharmacy and retail space.
Loma Linda University Children's Hospital – Indio Outpatient Pavilion will be located near the city's civic center, which is 70 miles east of Loma Linda University Health's central campus.
The renovations of a currently existing building will begin soon in hopes of opening doors to the new pavilion in late 2017.
The construction and design teams designated to the project are Hanna Construction and Callison RTKL architects.