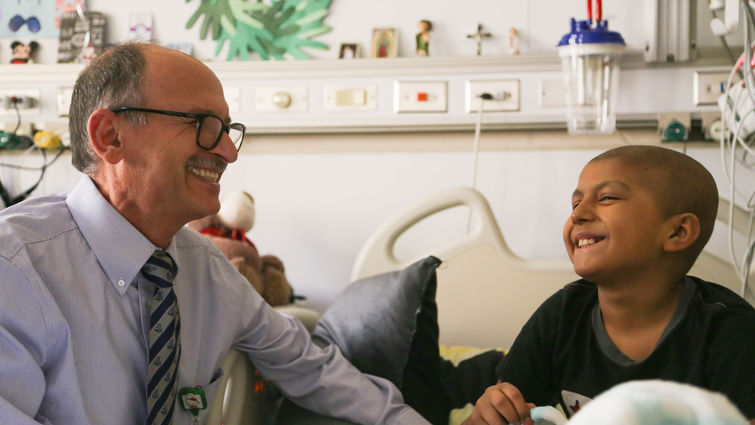 For the first time, Loma Linda University Children's Hospital (LLUCH) has been named a Top Children's Hospital by The Leapfrog Group, a designation that highlights its nationally recognized achievements in patient safety and quality.
LLUCH is the only children's hospital in the western United States to earn the coveted 2017 designation.
Announced Thursday, Dec. 7, the Leapfrog Top Hospital award is widely acknowledged as one of the most competitive honors American hospitals can receive. The Top Hospital designation is awarded by The Leapfrog Group, an independent hospital watchdog organization.
Among the roughly 350 children's hospitals in the country, LLUCH was one of only 10 hospitals to receive the Top Children's distinction.
Scott Perryman, MBA, senior vice president/administrator of LLUCH, attributes this recognition to the medical professionals at LLUCH that dedicate their lives every day to their patients.
"At Loma Linda University Children's Hospital, our medical staff, nurses and other experts dedicate themselves to giving nothing but the best care for our mothers, babies and children, restoring them to health and happiness" Perryman said.
Performance across many areas of hospital care is considered in establishing the qualifications for the award, including infection rates, maternity care and the hospital's capacity to prevent medication errors. The rigorous standards are defined in each year's Top Hospital Methodology.
Leah Binder, president and CEO of Leapfrog congratulated LLUCH in a statement to all the top hospitals.
"This demonstrates extraordinary dedication to patients and the local community," Binder said. "The entire staff and board deserve praise for putting quality first and achieving results."
The LLUCH medical team comprises more than 100 pediatricians, pediatric surgeons, and sub-specialists to treat everything from broken bones to disabilities and life-threatening diseases. LLUCH also has more than 1,200 nurses, child life specialists and other staff who are dedicated to the health and healing of children. Together they provide a family-focused environment backed by state-of-the-art care.
To qualify for the Top Hospitals distinction, hospitals must submit a Leapfrog Hospital Survey. The selection of Top Hospitals 2017 is based on surveys from nearly 1,900 hospitals. To see the full list of institutions honored as 2017 Top Hospitals, visit www.leapfroggroup.org/tophospitals.