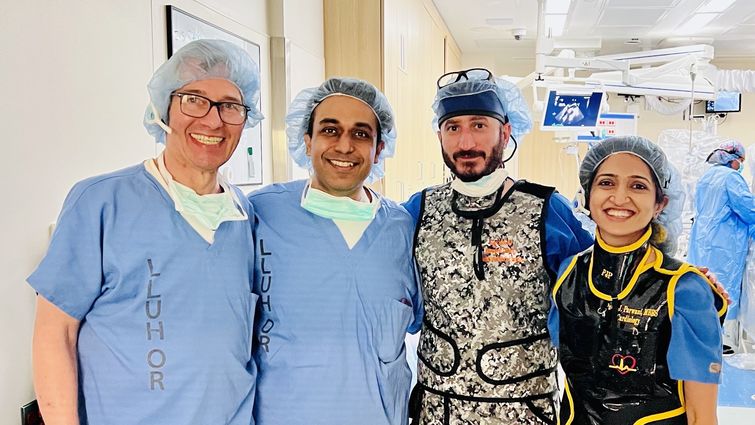 A non-surgical procedure called alcohol septal ablation offers an additional treatment option to people living with one of the most common genetic heart diseases, hypertrophic cardiomyopathy. Loma Linda University International Heart Institute became the first and remains the only center in the Inland Empire region to offer the minimally invasive procedure as of last month.
"Our care teams offer a wide assortment of specialized cardiac procedures to help our patients, and this treatment option for patients with hypertrophic cardiomyopathy was an important one to add to our list," says Vinoy Prasad, MD, FACC, FSCAI, director of interventional cardiology at LLU International Heart Institute.
Hypertrophic cardiomyopathy (HCM) is an inherited condition in which the heart muscle is abnormally thick; it may cause symptoms including chest pain, shortness of breath, fatigue, abnormal heart rhythms, dizziness, and swelling. If left untreated, the chronic disease may lead to worsening symptoms, leading to poorer function and quality of life. In addition, people with HCM face a higher risk of developing atrial fibrillation, a type of arrhythmia that can lead to blood clots, stroke, and heart failure. Prasad says that some people with this condition may not experience any symptoms at all, although they may still be at high risk for arrhythmias associated with HCM and even sudden cardiac death.
Our strength lies in our ability to offer an array of cardiac services, treatment, and follow-up for patients close to home.Dr. Vinoy Prasad
Many people with HCM benefit from medicines to treat their condition — and some may even need an implantable cardiac defibrillator. In cases where someone with HCM does not respond to medications, a surgical myectomy can be offered, during which the abnormally thickened heart muscle is surgically excised during an open-heart procedure. However, certain patients who are older, live with comorbidities, or with other cardiac conditions may not be candidates for the physical demands of open heart surgery.  
Prasad says this is where alcohol septal ablation comes into the picture, offering HCM patients an added option to improve symptoms. During the minimally invasive procedure, physicians introduce a catheter through the wrist or leg to enter the coronary arteries, specifically a branch called the septal perforator. Next, they inject alcohol into the septal perforator that supplies blood to the abnormally thickened portion of the heart muscle. The alcohol's toxic effect shrinks the heart muscle, eventually enhancing the heart's overall function.
While the technique of alcohol septal ablation is not new, Prasad says it requires a patient-centered, multidisciplinary team approach and the "meticulous attention" of those trained to perform it. "It's not just one person and not just one specialty."
LLU experts hailing from specialties of electrophysiology, anesthesiology, cardiac imaging, interventional cardiology, and cardiac surgery unify their efforts to offer alcohol septal ablation to HCM patients. Jonathan Tobias, MD, a cardiologist at UCLA, proctored the first procedures at LLU Medical Center.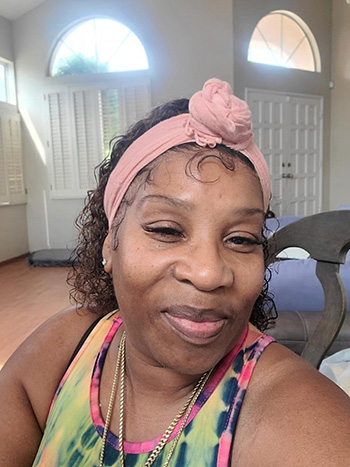 61-year-old Jeanice Jeters was the first patient with HCM to undergo alcohol septal ablation at LLUMC on July 12. Since her procedure, she says her symptoms of shortness of breath, chest pain, fatigue, and palpitations have entirely dissipated.
Jeters, a foster parent and mother of four who had been running a daycare for the past 14 years, says she is excited to return to her busy routine and continue helping others after full recovery.
"I was terrified to have any kind of procedure done on my heart, the main thing that keeps me alive and functioning," she says. "But the care teams made me feel comfortable and trusting enough with them to have this done. I can almost say I feel nearly one-hundred percent better, but I'm still healing and can't wait to see the outcome."
A diagnosis for HCM came as a shock to Jeters, who had initially sought cardiac clearance for a cosmetic procedure she planned to undergo. Upon evaluation, LLU cardiac surgeons identified Jeters as a patient who'd benefit most from alcohol septal ablation; open-heart surgery would prove technically challenging due to two stents in Jeters's heart and her comorbidities.
She says she felt minimal discomfort following alcohol septal ablation and is currently healing from a procedure to implant a pacemaker that regulates conduction abnormalities in her heart. "I feel really good," Jeters says after reporting no side effects or lingering symptoms.
Prasad says imaging of Jeters's heart shows that the muscle was successfully reduced, allowing the heart to function better. He and the cardiac team will continue to monitor Jeters as her heart remodels from the ablation.
"This is just one of the treatment options that a comprehensive center should be able to offer to patients with HCM like Ms. Jeters," Prasad says. "Our strength lies in our ability to offer an array of cardiac services, treatment, and follow-up for patients close to home."
---
If you would like to partner with a physician to learn more about hypertrophic cardiomyopathy and treatment options, visit Loma Linda University International Heart Institute online or call 800-468-5432.