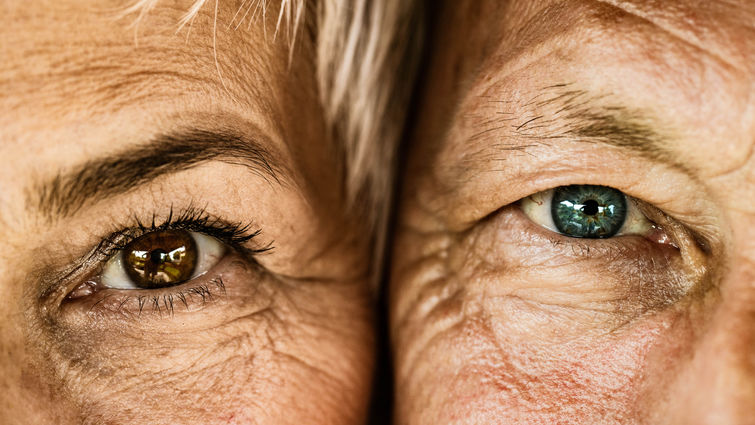 Loma Linda University Cancer Center is offering a new treatment that aims to prolong the lives of patients diagnosed with an eye cancer, called ocular or uveal melanoma, that has spread to other parts of the body (metastasized). This year, the FDA approved the cutting-edge immunotherapy, Tebentasfusp-tebn (Kimmtrak). It is the first and only FDA-approved treatment for patients with metastatic uveal melanoma.  
"This is a welcome addition to our portfolio of medications and marks an exciting new advancement in this class of immunotherapy," says John Y. Shin, MD, a medical oncologist at the Cancer Center.
When DNA mutates and causes abnormal growth in pigment-producing cells called melanocytes, the resulting cancer is called melanoma. However, many may not realize that melanocytes also live in the back of the eyeball in an area called the uveal lining, Shin says.
Although uveal melanoma is the most common type of eye cancer in adults, it is still rare, Shin says; there is a five per million chance of developing it.
65-year-old Donnie McEntyre was first alerted to discoloration in his right eye during a visit to his optometrist. Later, he brought up his symptoms — shadows and flashes in his vision — to his primary care provider. An MRI of his eye revealed a tumor the size of a small Lego plate growing in the back of the eye. Further testing showed the melanoma spread from the eye to his liver. He has since partnered with Joel Brothers, MD, to receive this novel immunotherapy.
It's better than the other treatments out there.Donnie McEntyre
There are no proven preventative measures or standard methods of screening for uveal melanoma because of the cancer's rarity, Shin says. For that reason, both Shin and McEntyre emphasize the importance of attending regular eye exams, either with ophthalmologists or primary care providers who perform the exams at annual checkups.
Uveal cancer is usually found incidentally on a routine eye exam, Shin says, and less than half of people experience any symptoms at all. So he says growing awareness about the cancer and the possible life-extending treatment options like Tebentafusp-tebn can only be beneficial.
Tebentafusp-tebn fits into a class of immunotherapy known as a bispecific T-cell engager, which utilizes novel technology to recognize two different types of molecules simultaneously. Shin says one "arm" of the immunotherapy binds to a protein called gp100, which is abundant on the surface of melanoma cells. Its other arm binds to immune cells called T cells, bringing them close to the melanoma cells. This proximity allows immune cells to attack and destroy the cancer cells, Shin says.
McEntyre met the eligibility requirements for this immunotherapy: he has metastatic uveal melanoma that cannot be surgically removed or spread to other organs in the body, and his cells have a marker on their surface called human leukocyte antigen-A*02:01. The marker is a protein present in about half of all white people, the population most affected by the disease, according to this year's recently released American Association of Cancer Research Progress Report.
This treatment option's capability to prolong life is meaningful for many with uveal melanoma.Dr. John Shin
McEntyre opted to move forward with Tebentafusp-tebn because "it's better than the other treatments out there," he says.
Patients with metastasized uveal melanoma faced limited options before the availability of this immunotherapy, Shin says. Oncologists administered a different type of immunotherapy, known as checkpoint inhibitors, that wasn't as effective.
People diagnosed with uveal melanoma faced a prognosis of roughly one year from diagnosis, Shin says; recent clinical trials showed that Tebentafusp-tebn provided a six-month improvement in overall survival. Moreover, Shin adds that even in cases where the patients' tumors didn't seem to respond to the immunotherapy, data showed that they still fared better than patients who didn't receive it.
"The immunotherapy doesn't transform the patient's uveal melanoma from incurable to curable," Shin says. "But having a prognosis of one and a half years instead of one year moves the needle a lot more than what traditional therapies would do."
McEntyre says he has already received 24 doses of the immunotherapy and has tolerated the treatment without serious side effects. Treatment doesn't take over his life, he says. A retired equipment mechanic based in Riverside, McEntyre spends his days with his wife of 41 years and restoring classic cars.
"So far, the imaging shows that Mr. McEntyre's disease is not progressing," Shin says. "This treatment option's capability to prolong life is meaningful for many with uveal melanoma. It's hard to find new medicines for rare diseases like uveal melanoma so this immunotherapy is a welcome improvement in research."
---
Care teams at Loma Linda University Cancer Center continue to seek out and offer the most cutting-edge treatments for patients living with cancers, be they rare or widespread. The Cancer Center has specialists who can help you decipher the clues your body may or may not be giving or join you on your journey back to health. Learn more about services offered to patients at the Cancer Center online or call 1-800-782-2623.