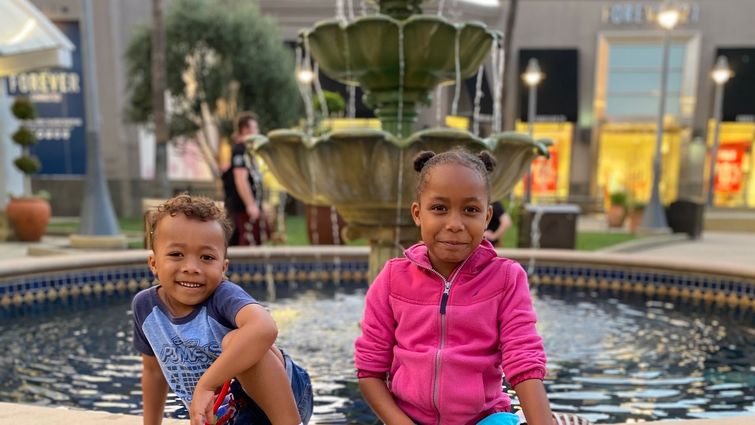 Sickle Cell Disease (SCD) is a common yet overlooked genetic disorder, with approximately 300,000 babies worldwide born with the disease each year, according to the World Health Organization.
Although there is a highly diverse patient population in the Inland Empire affected by SCD, there are unique barriers to receiving care in our region. Akshat Jain, MD, MPH, a global sickle cell disease expert, and his team continue to combat those barriers by raising awareness of the disease and treatment options available at Loma Linda University Children's Hospital.
A family impacted
The Nwaezeapu family is one of many in the community affected by SCD. Acie, 8, and her brother Acin, 6, were both born with SCD.
With this disease, they were born with irregularly shaped red blood cells. Due to this shape, texture, and inflexibility, the cells become clumped together. Jain explains these clumps cause blockages in Acie and Acin's blood vessels, hindering blood flow thus cutting off lifesaving oxygen to these cells. This lack of oxygen or Ischemia cause many health difficulties, most notably severe acute pain in the bones and muscles, anemia and jaundice. The disease may also cause emergent issues — what Jain calls "sickle cell crises," including infections, acute chest syndrome, and stroke in patients of all age groups affected by SCD.
Acie and Acin's mom, Alainya, knew before having children that she was a carrier of the SCD trait. But Acie and Acin's dad, Christopher, had been told since childhood that he wasn't a carrier and didn't find out otherwise until Acie was born. Because both parents were carriers, Acie and Acin had a 25% chance of being born with the disease.
"Her diagnosis blindsided us," the Nwaezeapus say. "It was challenging to process. We were excited to have a newborn childhood who, to the best of our knowledge, was healthy. Then a few days later, we got the phone call that changed everything for us."
Christopher, a registered nurse, previously cared for many SCD patients. "It seemed like a hard road that my child would have to walk down, even if you just look up the lifespan for someone with sickle cell disease," he says. "It crossed my mind that I might outlive my child."
The Nwaezeapus experienced similar emotions after Acin was born and diagnosed two years later.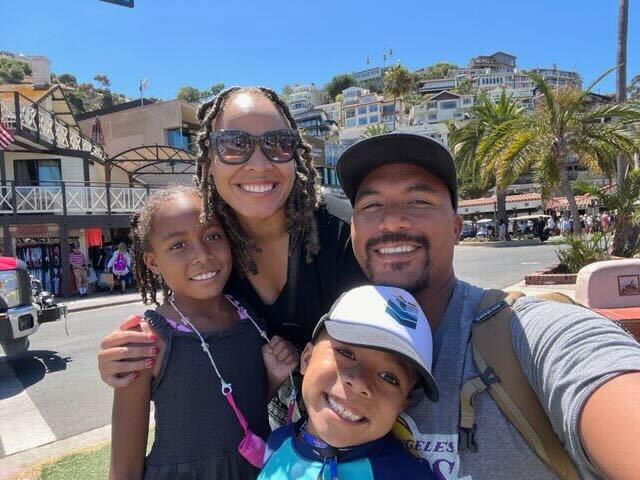 Comprehensive sickle cell care
In 2017, Jain was invited to Children's Hospital to set up a center of excellence for sickle cell disease. A program that would take on the care of hundreds of sickle cell and anemia patients in the Inland Empire and beyond.
"Sickle cell patients were already receiving great care at Children's Hospital, but it was scattered," Jain says. "We intended this program to provide full service, comprehensive sickle cell care, not only when patients need intervention for pain and in events of crisis, but to ultimately keep them out of the hospital and keep them as close as possible to a quality of life similar to their peers."
Jain had his first clinic visit with Acie and Acin approximately a year later — a visit that was supposed to be simple, educational, and routine. However, during the exam, Jain noticed Acie had a massive enlargement of her spleen — pointing to the onset of a major sickle cell crisis.
"I think it was divine intervention that they happened to come for a clinic visit," Jain says.
He explains that by knowing what to look for, such as checking the spleen, some of these life-threatening sickle cell crises can be caught before excruciating pain sets in. As a chronic disease, crises can often be triggered by infection. In children and teenagers, crises can also be impacted by dehydration, temperature changes, and stress from school.
Raising awareness, hopeful for the future
The Nwaezeapus are slowly educating Acie and Acin about SCD as they get older and can understand more information. But, for now, they say it's important that their kids know basics, such as drinking water, staying out of the heat, speaking up if they're feeling sick or having stomach pains, etc.
As for Acie and Acin's treatment, there are various options, including medicines for pain management, blood transfusions, vaccines, and antibiotics. Currently, stem cell transplant from bone marrow is the only recognized cure for SCD — a course of curative therapy that Children's Hospital and Jain's team have successfully performed more than 10 times.
However, stem cell transplants aren't without their risks. As a result, the Nwaezeapus are currently utilizing other treatment options and remain hopeful for upcoming curative options.
"Dr. Jain and his team have been excellent," they say. "We know we can just stay put and trust them. Our children have been doing very well."
Jain adds that the recent addition of world expert Hisham Abdel Azim, MD, at the helm of cellular therapy, to the team will be instrumental in establishing even more lifesaving cures like gene therapy at Children's Hospital in the coming years.
For other families struggling with SCD, they encourage them to find a support system. And for those unaware of SCD, they hope to continue raising awareness, saying education is key to a better standard of care across the country and continued steps to more curative options.
More information about SCD in children is available online.