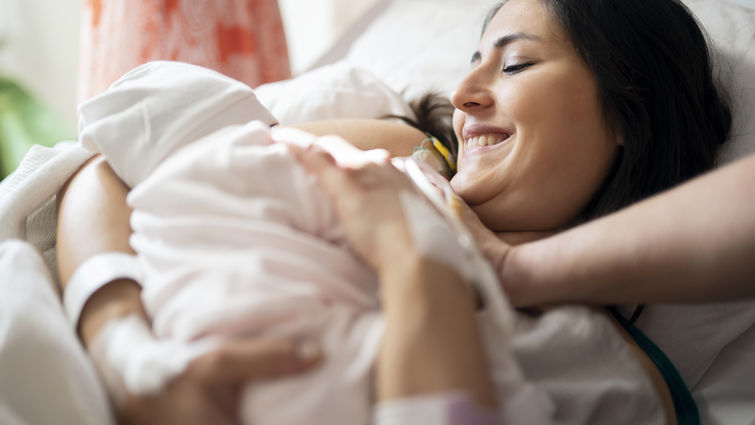 Loma Linda University Children's Hospital supports moms in breastfeeding their infants because of the many benefits to both mom and baby. For infants, breastfeeding can decrease their risk of infections, Sudden Infant Death Syndrome, diabetes, obesity, asthma and allergies, and some cancers. For moms, breastfeeding helps aid weight loss and decreases a mother's risk of certain cancers, metabolic diseases, and postpartum depression.
However, breastfeeding may be overwhelming and not come naturally to all new mothers. That's where lactation specialists step in to provide education, encouragement, and support.
Kathryn Tucker, RN, is part of the lactation specialist team that provides services at Children's Hospital. Experts like her help teach new moms many things, from holding a baby for optimal feeding to navigating challenges such as a baby refusing to feed.
Lactation specialists at Children's Hospital are registered nurses and internationally board-certified lactation consultants who received extensive training in the management of breastfeeding. They can also assess and treat many breastfeeding issues, Tucker says.
"We are a great team of women who love to support our breastfeeding families," Tucker says. "We are passionate about the health benefits breastfeeding will provide and want to help new mothers reach their breastfeeding goals."
The team supports moms by offering breastfeeding classes prenatally and working with new moms on postpartum units and in the NICU. It also offers outpatient support through a breastfeeding group and trains staff on proper breastfeeding education.
As a Baby Friendly facility, Children's Hospital has a goal to have their new mothers exclusively breastfeed their babies. But this can be both a beautiful and challenging experience. Tucker says lactation specialists help improve breastfeeding outcomes and support new families with personalized education and hands-on care.
Tucker says the most rewarding part of her job is helping new families navigate a special moment in time after their babies are born. "Lactation consultants are here to support you through the difficult times and joyful ones," she says. "You are not alone."
Tucker and the lactation specialist team hope to provide encouragement and support after your baby is born but highly encourage moms to educate themselves on breastfeeding before ever going to the hospital.
"There is so much to learn as new parents, and it is hard to absorb it all when you are waking to feed a baby ever few hours," she says. "Ask for help early. Get support from your family. Join a breastfeeding group. Preparing yourselves with breastfeeding knowledge will put you one step ahead. But we will also be here to support you."
Visit our website to find out more about breastfeeding or to sign up for our monthly Breastfeeding Basics class taught by a certified lactation specialist.