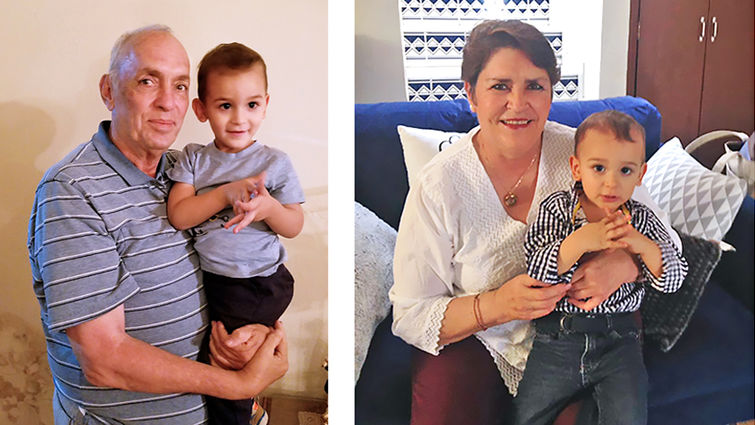 "Mami, don't die, please. I am going to be a doctor, and I will get you well," begged 4-year-old Angelica to her mother and namesake, Angelica Rincon Carrillo of Zacatecas, Mexico.
Mother lived, and daughter fulfilled her promise. But a long life didn't seem certain to Rincon Carrillo and her family when this young mother traveled to Loma Linda, California, in March 1983 to undergo a kidney transplant.     
At her first appointment at Loma Linda University Health, then-32-year-old Rincon Carrillo learned her blood creatinine level was so high that she needed immediate dialysis. Doctors planned to perform her transplant in May 1983, but complications delayed the surgery until Sept. 3. 
Within three to four days, Rincon Carrillo's immune system began to reject the organ. 
Was her twin brother's gift of one of his kidneys in vain? Had he, Jose Antonio Rincon Valdes, resigned from his job and undergone major surgery with a three-month recovery period only for an outcome of heartbreak?
People at home in Mexico had warned him against donating to his sister. It was too unsafe for him, they said.
But when Rincon Valdes, nicknamed Pepe, learned that Angelica could live another six to 12 years with a new kidney, he overcame his fear.
Now 34 years later, Angelica continues to exceed that life expectation. Doctors at Loma Linda University Health reversed the initial organ rejection, and Angelica is now a grandmother in her sixties.
"I have a normal quality of life," she said.
The family promises that led to this outcome also included the support of sister Carmela Rincon Loelkes and her husband, Ernst Loelkes, of Temecula. They hosted the extended family for months before and after the surgeries, with other family members and Ernst driving Angelica to Loma Linda up to three times a week. 
Also going above and beyond were social worker Ruth Salazar from Loma Linda University Medical Center, who coordinated the cross-border surgery preparations, and physicians at Loma Linda including Siegmund Teichman, MD, as well as physicians in Mexico. 
Unexpectedly, sister Carmela Rincon Loelkes recently became a Loma Linda University Health patient herself, receiving lifesaving pulmonary care at LLU Medical Center – Murrieta. Following that experience, her passion for the work of Loma Linda University Health grew. She is now an active member of the Community Partnership Council led by Peter Baker, JD, MBA, administrator at Loma Linda University Medical Center – Murrieta. 
Rincon Loelkes recently recalled the start of her connection with Loma Linda University Health. Years before the pregnancy, sister Angelica Rincon Carrillo suffered from an illness that doctors in their home state of Zacatecas could not identify.
"When she got pregnant, doctors told her that it was suicidal," Rincon Loelkes said, "and that she may not make it through the pregnancy. If she did, most likely her baby would be stillborn. But she wanted that baby so much, and God in His mercy allowed a miracle to happen in December 1979."
But the new mother's health wasn't improving, and after reaching a point where she could barely walk, Angelica was finally diagnosed by doctors at Guadalajara General Hospital in 1982 in neighboring state Jalisco. One of them, a Dr. Monteon, contacted Loma Linda University Medical Center.
It was during a dicey moment while her mother was bleeding at the Loelkes' residence that the miracle baby girl made her plea and promise to her mother. 
Now a 38-year-old physician practicing in Guadalajara, Jalisco, Mexico, "She is married and has the most wonderful 2-year-old son," Rincon Loelkes said. 
Brother Pepe, the kidney donor who made it all possible, also recently recalled the experience of 34 years ago. When the transplant had to be delayed by several months, he needed to go back to Mexico in the intervening time. 
"This time was a very difficult time with my mom and dad," Pepe said, "because they thought that if I went back to Mexico, most likely I would not return. But I spoke with my sister, and I told her that my promise was between her and me, and that I was going to return, and I did.
"A very nice satisfaction came when Angelica woke up in the recovery room," Pepe continued. "The nurses told me that the operation had been a success and that when she woke up, the first thing she asked was how I was.
"¡Salud!" he concluded.
About transplant services at Loma Linda University Health
The Transplant Institute at Loma Linda University Health is the region's only comprehensive multi-organ transplant center. The commitment to quality, research and individualized care ensures that patients receive thorough treatment featuring the latest advances in transplantation.
lluh.org/transplant
800-548-3790