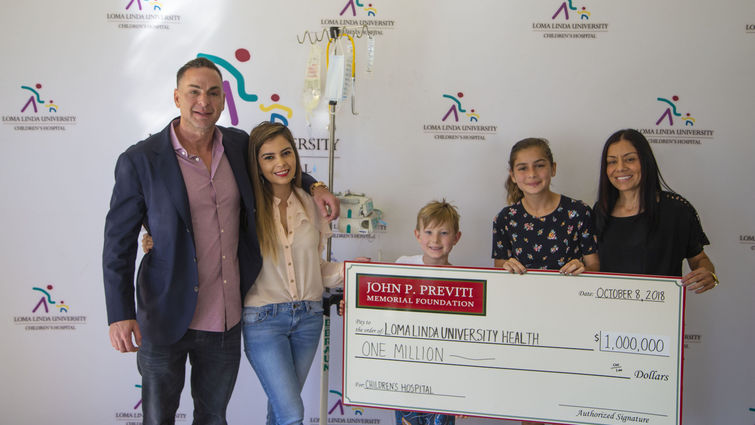 Loma Linda University Children's Hospital was the recipient of a $1 million donation from the John P. Previti Memorial Foundation on Monday, Oct. 8. Funds will benefit the new Children's Hospital tower currently under construction and the naming of the new learning center, which provides K – 12 education resources and instruction to critically and chronically ill hospitalized children.
Lee Ann Gridley, MA, director of the existing learning center said the benevolence of the Previti Foundation will allow patients to reconnect with their education.
"This everlasting gift will give an inspiration to families," Gridley said. "The new space will be a place for kids to call their own, giving them a chance to thrive and ensure skills that will last them a lifetime."
The John P. Previti Memorial Foundation is a non-profit grant-making organization dedicated to improving the quality if life of at-risk individuals by supporting education, advocacy and recovery programs to create real, lating benefits to the health and vitality of communities.
Jimmy Previti created the foundation in 2009 to honor the memory of his brother, John, and to provide philanthropic support to worthy organizations.
John's daughter, Alessandra 'Lexie' Previti, who was on hand for the check presentation, expressed her gratitude to Loma Linda University Children's Hospital for making medical miracles come true every day.
"Every day, you're saving the lives of the young and most vulnerable among us," she said. "And because of this, you create brighter futures for children and their families."
Lexie's mom and member of the Previti Foundation Board of Directors, Christina Previti, expressed her excitement to be supporting Loma Linda University Children's Hospital.
"Through the hospital expansion, Loma Linda University Children's Hospital will be able to provide compassionate care to many more children across the Inland Empire and beyond," she said.