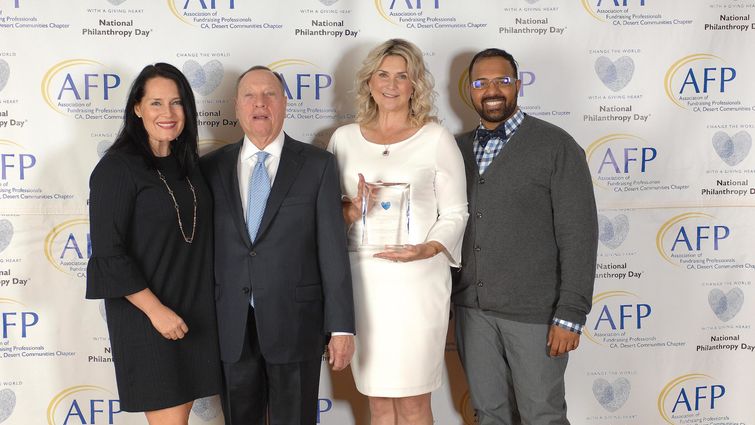 Friends and benefactors of Loma Linda University Children's Health, Jill and Barry Golden, were honored as Outstanding Philanthropists of 2018 by the Association of Fundraising Professionals Desert Communities Chapter. The Goldens accepted the award at the National Philanthropy Day Awards Luncheon earlier this month.
Since moving to the Coachella Valley in 2003, the Goldens have immersed themselves in the community, supporting multiple organizations through philanthropic support and volunteerism. They have given of themselves to more than 20 organizations since 2003, donating countless hours and $7.1 million, including the lead gift to support the opening of Loma Linda University Children's Health – Indio in the city's downtown. The clinic's Jill and Barry Golden Pavilion was named in recognition of their generous gift for the facility, which is the largest pediatric clinic in the area.
Since the Pavilion opened, Jill has continued to serve as an ambassador for Loma Linda University Children's Health and its goal to provide care for the underserved population in the community.
Jillian Payne, assistant vice president of philanthropy at Loma Linda University Health, says the Goldens' generosity is infinite. "Their benevolence flows directly from hearts that recognize that alone you can achieve only a fraction of what can be done working with and inspiring others," Payne said. "Jill and Barry inspire all those who know them."
The Goldens were nominated by various organizations for their extended record of exceptional generosity through direct financial support, demonstration of outstanding civic and charitable responsibility, and for encouraging others to take philanthropic leadership in the community.
Upon receipt of the award, The Goldens expressed their gratitude toward all those individuals and organizations who were honored at the event and acknowledged how their involvement with Loma Linda University Health has changed their lives.
"Loma Linda University Health leaders fully immersed themselves in learning the culture and understanding the needs of the Coachella Valley first hand," Jill said. "They swiftly assessed the situation and took action. You don't normally see that in a hospital administration, and I applaud them for that."
Barry added that he loves Jill's sensitivity toward helping people. "It's a great attribute to have," he said. "I watched Jill for a year and a half on her Loma Linda journey and I soon caught the vision Jill was seeing.
More information about Loma Linda University Children's Health – Indio Jill and Barry Golden Pavilion is available on the clinic's website.