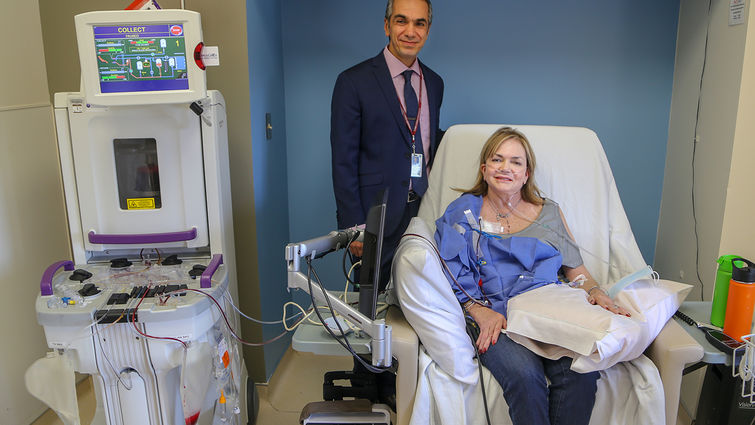 Loma Linda University Health becomes the first institution in the Inland Empire region to perform photopheresis, as the Division of Nephrology performed its first photopheresis procedure on an adult patient on September 18, seven months after the procedure was performed on the first pediatric patient. 
"We are pleased to now offer this advanced therapy to the Inland Empire area, which will save lives and offer people a closer, easier solution for organ transplant rejection," said Amir Abdipour, MD, chief of nephrology at Loma Linda University Health. "We are excited to provide this service to our local communities."
Transplant rejection occurs when a transplant recipient's immune system attacks the transplanted organ or tissue. While the immune system usually protects the body from things that may be harmful, it may not recognize a transplanted organ and attack it in an effort to protect the body, Abdipour said.
Extracorporeal Photopheresis (ECP) is a type of medical therapy used in treating patients with organ transplant rejection, and some very specific bone marrow transplant complications called graft versus host disease — or GVHD. The process removes the blood from the patient, collects the white blood cells and returns the rest of the blood to the body.
The ECP process tags the white blood cells with a medication called psoralen, and then are put under ultraviolet (UVA) light to initiate a process called apoptosis — which is a programmed cell death that naturally happens in the body, but at a slower rate. When white blood cells are exposed to this medication, they become more reactive to the UVA rays, Abdipour said. The cells then go back and are able to modulate the immune system to treat the rejection or GVHD.
It takes approximately two-and-a-half hours to undergo the ECP treatment. Abdipour said patients are not required to stay overnight at the hospital and are able to commute to receive their daily treatment.
"It's given me time I never expected I could have," said Cynthia Maiberger, the first adult patient to receive this treatment at Loma Linda University Health. "I want other patients with a similar condition to be able to take their lives back."
Maiberger, a resident of Redlands, began treatment at Loma Linda University Health in September after having to travel to San Diego for treatment four times a month for three years.
"I've been able to save time and money by receiving treatment locally, enriching my life and my time with family," Maiberger said.
The treatment was brought to Loma Linda University Health in February of 2018. All ECP procedures are currently performed in-house at Loma Linda University Medical Center.
For more information on this treatment or the Division of Nephrology, view our locations, meet our providers or call 909-558-2624.