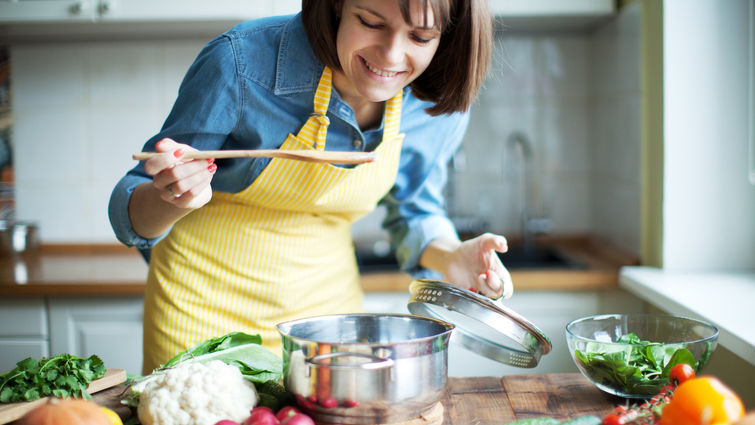 Can an apple a day really keep the doctor away? The foods people eat and don't eat can play a large role in how productive the immune system is — especially when it comes to fighting the flu.
According to the Center for Disease Control and Prevention, the average adult should eat at least 1 ½ to 2 cups of fruit per day and 2 to 3 cups of vegetables a day as per a nutritious diet. Only 1 in 10 adults currently get enough fruits and vegetables.
It can be difficult to think about eating food when the body aches, fever escalates and chills set in. However, eating a balanced and healthy diet can be one of the body's greatest lines of defense against the flu.
Brenda Rea, MD, DrPH, PT, RD, family and preventive medicine physician at Loma Linda University Health, encourages healthy nutrition to help the immune system ward off any unwanted viruses. She recommends the following options as healthy must-haves:
Brightly colored vegetables (tomatoes, carrots, beets, etc.)
Leafy greens
Cruciferous vegetables (kale, Brussel sprouts, cabbage, broccoli)
Dark berries (strawberries, blueberries, raspberries, etc.)
Green Tea or Lemon Water
Fruit smoothies
Ginger and/or garlic
As for the foods to avoid, these include:
Sugary foods and beverages
Processed or packaged foods
Foods high in unhealthy fat
Dairy (yogurt, milk, etc.)
During the flu season, a warm bowl of soup comes standard. Rea encourages patients fighting the flu to consider making a hearty vegetable soup, onion soup with carrot noodles or butternut squash. These are heart-healthy and filled with immune boosting vegetables.
Loma Linda University Health's Chef Cory Gheen, MS, RD, shares his recipe for vegetable and cannellini bean soup. It's ideal for those under the weather and in need of a hearty meal.
Vegetable and Cannellini Bean Soup
Portions: 6​
Ingredients:
Amount          Item
3 Tbsp            Vegetable oil
2 cups             Leek, white part of stem only, sliced 1/8 inch thick
1 cup               Chard stems, red, sliced ¼ inch thick
2 ea                 Garlic cloves, peeled, minced
1 ea                 Carrot, peeled and small diced
1 ea                 Potato, washed and small diced
1 qt                 Vegetable stock
1 can               Cannellini beans, drained and rinsed
2 cups             Chard leaves, stems removed, bite size pieces
1 tsp                Kosher salt
1 tbsp             Fresh herbs of choice, minced
As needed      Lemon juice, fresh squeezed
Method:
Heat the oil in a heavy bottomed, 2 qt pot to medium heat.
Add the leek and chard stems and sauté 3 minutes.
Add the garlic and continue cooking another minute.
Add the carrot, potato and stock. Slowly bring just to a simmer.
Allow to simmer until potatoes are tender, about 20 minutes.
Remove from the heat and stir in the beans, chard leaves, salt and fresh herbs.
Taste and adjust seasoning with lemon juice and additional salt to your liking.
Learn more about flu prevention and tips for when a person experiencing flu symptoms should go to the emergency room.