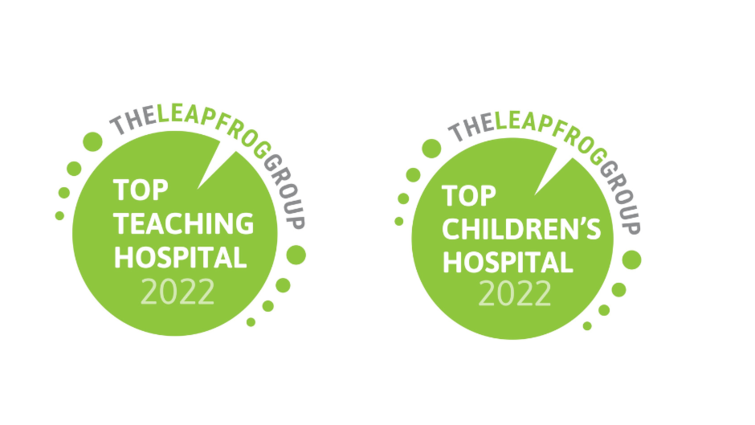 Loma Linda University Children's Hospital has been named a Top Children's Hospital for the fifth time in six years, and LLU Medical Center East Campus has been named a Top Teaching Hospital for the third time.
Trevor Wright, CEO of Loma Linda University Health Hospitals, said the awards point to the collective work of every employee to establish a culture of safety and quality.
"This Children's Hospital's recognition affirms that our patients and families are receiving care in one of the safest children's hospitals in the country. It takes an entire team to meet the needs of our tiniest and most vulnerable patients," said Wright. "The Top Teaching award to East Campus recognizes our commitment to preparing the caregivers of tomorrow. Students and residents who come here learn healthcare's best practices from an elite group of physicians, preparing them to take the excellence they learn here and share it throughout their careers."  
Announced today, the awards are widely acknowledged as one of the most competitive awards American hospitals can receive. The Leapfrog Group, a national watchdog organization, is recognized as the toughest standard-setters for healthcare safety and quality.
Over 2,200 hospitals were considered for the Top Hospital awards, and only 115 of them received the designation. LLU Children's Hospital was one of only 12 Top Children's Hospitals, and LLUMC East Campus was one of 58 Top Teaching Hospitals named by The Leapfrog Group.
The quality of patient care across many areas of hospital performance is considered in establishing the qualifications for the award, including infection rates, practices for safer surgery, maternity care, and the hospital's capacity to prevent medication errors. The rigorous standards are defined in each year's Top Hospital Methodology.
To qualify for the Top Hospitals distinction, hospitals must rank top among peers on the Leapfrog Hospital Survey, which assesses hospital performance on the highest standards for quality and patient safety, and achieve top performance in its category. To see the full list of institutions honored as 2022 Top Hospitals, visit leapfroggroup.org/tophospitals.