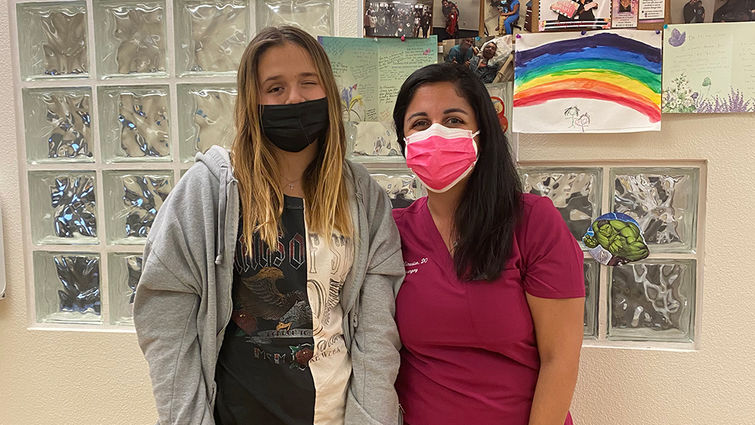 At 11-years-old, Jazzmine Samaniego is an active kid. She's strong and athletic, standing tall at 5"8. Of the many activities she loves, a few of her favorites include soccer, hiking, horse-riding, and ATV-riding. Nothing could have prepared Jazzmine and her parents for the accident that took her from being so full of life to suffering from severe traumatic brain injury (TBI).
On November 26, 2021, Jazzmine was in a terrible ATV accident. Despite wearing proper gear, including a protective helmet and being very experienced riding ATVs, Jazzmine's ATV flipped down an eight-foot-drop, rolling on her, and crushing her head.
Branden Samaniego will never forget holding his daughter in his arms, adrenaline pumping, screaming, tears pouring down his face. "It was horrific when I got to her," Samaniego says. "Jazz was unconscious. There was blood gushing from everywhere on her head, out her ears."
The minutes it took for paramedics to reach them, Samaniego says felt like hours as he held Jazzmine, wrapping her head in his coat and shirt to try and stop the bleeding. Jazzmine was flown by helicopter first to another hospital, which couldn't care for the extent of her injuries.
"We were initially told that Jazzmine may have broken her spine, may have a detached eye, and may never remember who we were due to her injuries," Samaniego says.
She was then taken to Loma Linda University Children's Hospital. As a Level 1 Trauma Center, Children's Hospital treats multiple patients every day suffering from TBIs — the leading cause of death and disability in kids, says Tanya Minasian, DO, FACS, Jazzmine's pediatric neurosurgeon at Children's Hospital.
Jazzmine had sustained a severe TBI. She had multiple facial and skull base fractures along with bleeding and air inside her brain. When she arrived at Children's Hospital, she was comatose.
"Her condition was very serious," Minasian says. "We knew she would survive, but we were not sure of her neurologic outcome, given the severity of brain injury."
Jazzmine remained in the ICU being closely monitored for the need for a craniotomy or bolt insertion into her brain. There were many up and down moments, says Samaniego. "She would wake up so confused, not remembering what happened," he says. "She would try to pull out the breathing tubes and the needles, swinging her arms, literally fighting for her life."
While she came close to needing brain surgery, Minasian says she ended up not requiring it and instead improved slowly. Jazzmine was released from the hospital on December 4, 2021.
Minasian says Jazzmine has made a rapid and impressive neurologic recovery. "90% of patients with this type of severe injury are unable to ever become conscious," Minasian says. "While she will require continued therapy for neurologic improvement, she is very lucky."
Samaniego says Jazzmine is herself again, hoping to be soon cleared to play sports and go back to the activities she loves. "Jazz is a walking miracle — she's literally just the same kid she was before the accident," he says. "We want to express how forever grateful we are for the loving and kind staff at Loma Linda, starting with her neurosurgeon Dr. Minasian, her ophthalmologist, and all her ICU nurses for saving her life and being there emotionally for her mom and I. There's no doubt we were at the best children's hospital in the world and recommend any parents and children going through difficulties as well to stay strong and have faith in God, Dr. Minasian, and the entire staff."
Minasian describes Jazzmine's family as a beacon of support, remaining positive and optimistic. "They truly played a role in her improvement during her hospital stay and now continue to support her in recovery," she says. "The entire team at Children's Hospital is proud of Jazz's  strength. Seeing her walk into my clinic made me so incredibly happy and proud of the excellent work we do here at Children's Hospital."