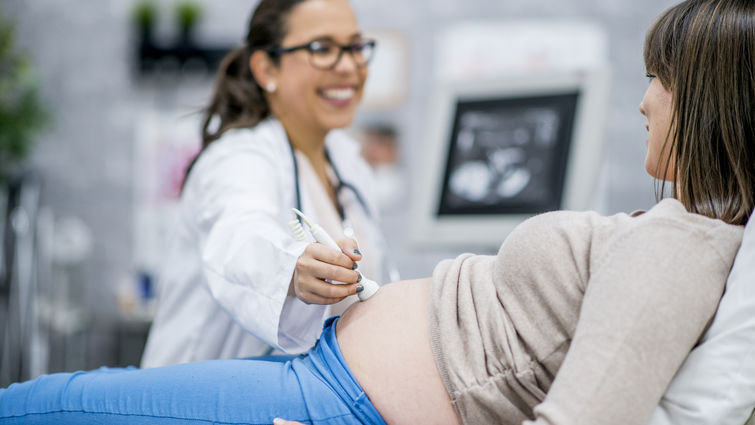 Loma Linda University Medical Center – Murrieta (LLUMC – Murrieta) is pleased to announce the launch of its new Maternal Fetal Medicine (MFM) program, which provides comprehensive prenatal care to women experiencing unexpected complications during pregnancy. The new program rounds out a full range of mother and baby care services offered at LLUMC – Murrieta. 
The MFM program provides more advanced care for expectant mothers who have been diagnosed with a high-risk pregnancy. High-risk pregnancies can occur for a variety of reasons, including advanced maternal age, chronic medical conditions (diabetes or hypertension), multiple pregnancy (twins or more), and a history of preterm labor. Each of these may necessitate closer monitoring and the medical need to see a MFM specialist.
Doctors say a high-risk pregnancy does not necessarily mean that it will be more difficult than a low-risk pregnancy. However, depending on the specifics surrounding the pregnancy, it can mean a range of advanced care is needed such as comprehensive prenatal screening, pregnancy monitoring and advanced diagnostics. To appropriately address high-risk concerns, the MFM program works closely with the patient's obstetrician and provides access to a MFM physician. 
The MFM physician is an obstetrician-gynecologist (OB-GYN) who has undergone three additional years of education specializing in high-risk pregnancy. MFM physicians work with mothers from pregnancy through delivery managing their risks and developing labor/delivery plans. 
"This has been a two-year quest to completing the prenatal service care line," said Rene Tovar, executive director of specialty services at LLUMC – Murrieta. "We have created the ideal environment for patients with high-risk pregnancy needs to receive exceptional care."
LLUMC – Murrieta currently offers a multitude of prenatal services, including calming birthing suites, skin-to-skin bonding program, lactation services and support groups. In addition to these programs, LLUMC – Murrieta is dedicated to providing robust care to expectant moms by expanding new services to include a state-of-the-art Level II NICU and an OB Hospitalist program. 
"Providing exceptional maternal fetal care is vital to the health of our community," said Peter Baker, senior vice president and administrator at LLUMC – Murrieta. "This additional service provides women in Murrieta and surrounding communities the ability to receive expert high-risk pregnancy care alongside our established maternity and OB/GYN services."  
To learn more about the Maternal Fetal Medicine (MFM) services, please visit murrieta.lluh.org/services/womens-health. Physician referrals can be made by calling 951-290-412. LLUMC – Murrieta is a proud provider of baby, maternity, and women's health services.