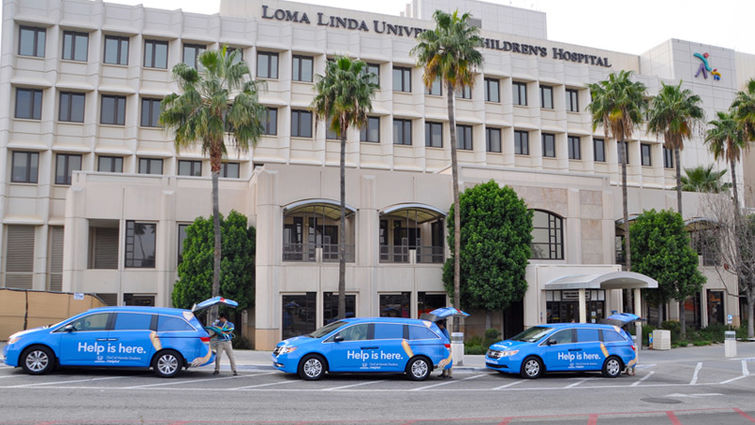 Loma Linda University Children's Hospital's (LLUCH) neonatal intensive care unit (NICU) is featured in the latest Southern California Honda Dealer's "Random Acts of Helpfulness" campaign. The television commercial is the first to feature a hospital in the campaign. Both TV and radio spots launched mid-March and will run through May 1.
In the SoCal Honda commercial, the men and women in blue delivered three vanloads of equipment to the NICU, including specialized thermometers and stethoscopes, privacy screens, blankets, mobiles, bouncy seats and a rocking chair. All items are those that can be used by nurses and parents of babies being treated in the NICU.
"We are beyond grateful for the donations made by the SoCal Honda dealers," said Tristine Bates, RN, director, LLUCH NICU. "The new equipment will definitely enhance our nurses' ability to provide quality patient care to their tiny patients and will provide parents with an extra sense of comfort."
Jennifer Gingras, a NICU nurse at LLUCH, submitted a letter through the Help Me Honda website, requesting items she and other NICU nurses needed. About three weeks later, she received a call from the Helpful Honda people stating they would fulfill her request.
"I couldn't believe it was actually happening," Gingras said.
Also a mom to a baby who was treated in the NICU at Loma Linda, Gingras knows firsthand what moms and nurses need on the unit. She attributes her experience at LLUCH to becoming a NICU nurse. "We care for about 80 babies, and can always use more equipment."
"Her story perfectly embodies the spirit of Helpful Honda," said Lauren Kay, spokesperson for SoCal Honda Dealers, "giving back to an organization, in this case Loma Linda University Children's Hospital, that helped save her son 27 years ago, inspiring her to become a NICU nurse."
Since 2007, the SoCal Honda Dealers have been committed to lending a hand in the community and surprising residents with unexpected Random Acts of Helpfulness. Why? Because it's their job to be helpful – no strings attached.
Last year, the SoCal Honda Dealers began sharing their Random Acts of Helpfulness on TV to continue helping people who truly need a hand. Residents are encouraged to share a request for help through its Help Me Honda website, which is exactly what Gingras did. She sent in her story in January this year, and within three weeks she got a call back saying she and the hospital would be getting the help they needed.