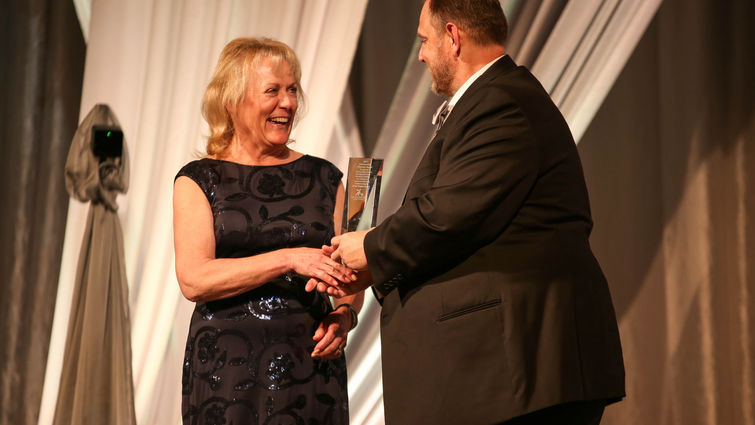 Helen Staples-Evans, DNP, MS, RN, was honored with the award for Outstanding Clinician at the 25th Anniversary Reflection Foundation Gala, presented by Walter's Automotive Group, on Thursday, March 1.
Loma Linda University Children's Hospital leaders said the award was in honor of her lifelong dedication and distinguished service provided to children and staff at the hospital, where she has dedicated over 30 years of service.
Pediatrics was and always has been her first love. "Children are so resilient," she says. "They attack every moment with a zestful life."
Staples-Evans was initially hired at LLU Medical Center in 1982, but two years later she made the switch to where she really wanted to be — serving children. She has evolved from a bedside nurse to a supervisor, professor and manager, and now serves as the chief nursing officer at the Children's Hospital.
Staples-Evans has thrived in multiple specialties including pulmonary intensive care, hematology/oncology, and critical care nursing. Because of her extensive background, she understands what it's like for her staff to do what they do every day.
Before joining Loma Linda University Health, Staples-Evans was a nurse in London and previously in South Africa, where she was born and completed her initial nursing education. She earned a Master of Science in 1984 at LLU School of Nursing, where she also earned her Doctor of Nurse Practice in 2014.
Her education and specialty experience have been felt through the years, says Children's Hospital senior vice president and administrator Scott Perryman. "She is invaluable," he says. "Her history and impact with the nursing staff and development of the leadership team have been critical to the hospital's development."
Her colleagues identify her as the epitome of professionalism, a genuine and sincere individual and a trusted leader.
Chief medical officer Richard Chinnock, MD, says she leads the hospital unlike any other. "She knows every nurse and every nurse knows her. And it's not just by name — its kids, spouse, how things are going — and that speaks to her leadership."
Chinnock notes that Staples-Evans understands at the granular level what's happening with every patient every day. "What I love most about her is her deep commitment to children and their families. It's just who she is."
Staples-Evans enjoys having the opportunity to "play" with patients or turning a corner during rounds and getting invited to a "picnic" in the hallway. "That's not something you get to experience in a hospital setting, and those are the most meaningful moments of my day," she says.