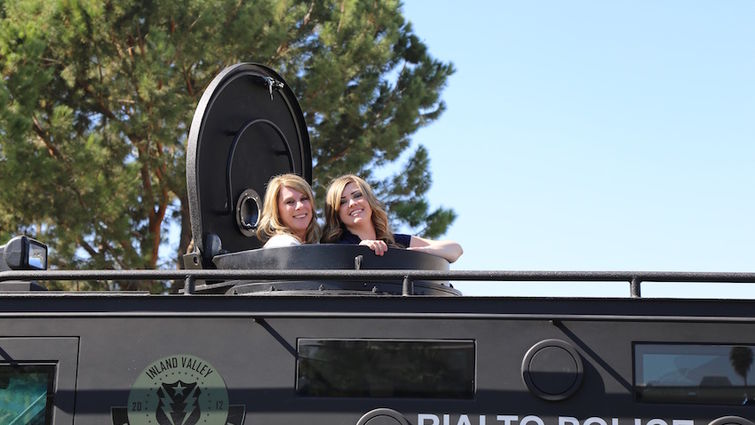 Megan Colley was just like any other 9-year-old – until she got sick. In June 1999 Colley was diagnosed with stage IV lymphoblastic non-Hodgkin's lymphoma, a rare and aggressive type of cancer.
"I had 16 golf ball-sized tumors in my stomach, liver, kidney and pancreas," Colley recalls.
Despite her condition, Colley stayed positive, saying she knew she could fight it. "I remember saying 'just get me a wig.'"
Colley's family was supportive and present during her time at the hospital, but not all the patients around her were so fortunate.
"Our family noticed other kids didn't have the support and attention I did," she remembers. "My parents would bring in food and toys for the other kids, and we noticed how much the extra attention was appreciated."
But the family wanted to do more.
When not at the hospital, Colley would often spend time at work with her dad, Gary Colley, then a police officer for Monterey Park Police Department.
"We started talking and came up with an idea to do something for the kids at the hospital," Colley said.
Gary got his other police friends together and had the first Cops for Kids Fly-In in December 1999. But another big thing happened that same month… Megan was deemed cancer free. Her tumors were gone.
"My doctor called me his miracle patient," she said, and in March 2000 she was officially declared in remission.
And although she was no longer being treated at the hospital – aside from regular checkups to insure the cancer was gone – the Colley family and law enforcement continued to organize the Cops for Kids Fly-In every year.
"The first couple years we just drove in and brought toys," she remembers, "and while we intended to just do this for the kids on the cancer unit, the turnout every year was so much bigger than we expected that we were able to do it for the whole hospital."
Colley attended many of the fly-ins over the years. While her last attended event was in 2006 when she was 17, the event has carried on almost every year, getting bigger and better with more participation from law enforcement from all over Southern California.
Now, the 27-year-old lives in Arizona with her fiancé, Kurtis Nielsen. Although she is now grown up and her time fighting cancer is a mere memory, it will always be a part of her.
"Loma Linda has shaped me to be the person I am now," she says. "I have compassion for others, and I'm more empathetic to what people are going through."
Knowing what it feels like to be the patient, she says that a positive attitude is key. "It's hard to be positive when you're sick, but events like this and everything else the hospital does to keep their patients' minds off their illnesses helps them. Kids have to stay strong and keep pushing."