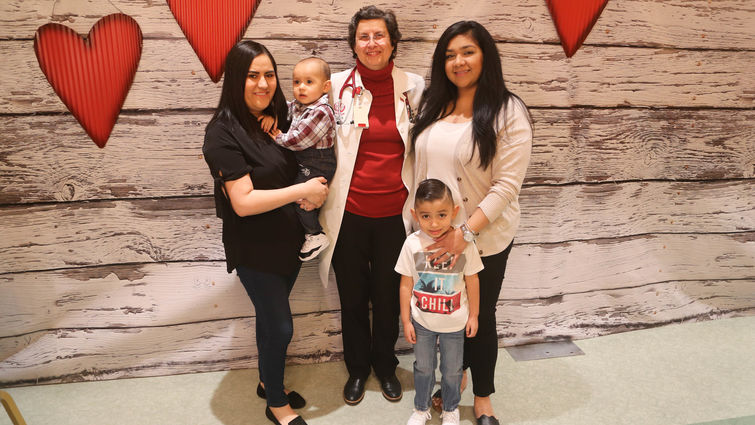 While embracing the infant of her patient, a transplant surgeon cardiologist at Loma Linda University International Heart Institute tearfully pours out her heart.
"To see a little boy look at his living mother is why I do what I do and fight for the lives of each of my patients," Liset Stoletniy, MD, says. "There is nothing like seeing your patients recovering from deadly cardiac problems alive and enjoying their families."
Stoletniy, two of her heart transplant patients and their children met for the first-time post-transplant at the institute's annual heart month event. All three were eager to see how they were doing now that two of them had a second chance at life.
The reunion was one that celebrated life-saving medical care as well as life-saving emotional support. In May of 2019, Marisol Cota Ramirez was in a fight for her life. Just two months after she gave birth to her baby boy, she experienced shortness of breath. Her husband insisted she go to the emergency room, and she reluctantly went. Tests revealed she was having severe heart failure due to peripartum cardiomyopathy and may need a new heart. 
"When they told me I would need a transplant, all I could think about was my kids and that they were too young to be without their mother," Ramirez says through a Spanish-language interpreter. "I was so scared."
To ensure she received the best heart care, she was transferred to the Loma Linda University International Heart Institute, where she was immediately greeted by Stoletniy. Her treatment included rounds of medication while she waited for a heart transplant. At one particular visit, Stoletniy noticed that Ramirez was not doing well emotionally and was struggling to hold on for that life-saving organ.
In hopes of motivating her to keep fighting for her own life, Stoletniy called in a former patient to encourage her through her darkness. Joelle Cardoza answered the doctor's request and came in. When Cardoza saw Ramirez, she instantly connected and knew exactly what emotional state she was in. A few years prior, Cardoza was in the same situation.
"The first things out of my mouth were: 'I know what you are feeling, this is what you are thinking and this is what you wish they could do,'" Cardoza retells. Ramirez broke into tears and responded, "yes." Cardoza told her she could beat the darkness if she held on to God. "I told her to look at how I am alive and well with my children, and that could be her too if she would let herself grieve. In order to get to the other side where hope existed, she had to cry it out and get back up."
That is what Cardoza had to do when she was told at age 30 she had the same condition: peripartum cardiomyopathy, also known as heart failure brought on by pregnancy. It happens in only 1 in 4,000 live births but is the leading cause of death among pregnant women. The diagnosis was shocking and hard to receive after she had just given birth to a healthy 10-pound baby boy in May of 2015.
Receiving this terrifying news was only the beginning of her frightful journey. During her eight-month wait for a donor, she says she coded twice and instructed her mother not to resuscitate her if it happened again.
"My mother looked at me and told me if it was one of my own children asking me what I asked her, would I let them give up?" Cardoza says. "I told her 'no.' I knew that I wanted to do what my mother had done for me for Marisol."
Cardoza continued her fight, and an organ donor was finally found. Now, seeing the woman she encouraged for the first time since she received a transplant, Cardoza says she can do a happy dance.
The two women credit both God and the extraordinary care that Stoletniy provided as the reason they are alive today. Stoletniy understood that both women not only needed a new heart but encouragement.
"The emotional support I received at Loma Linda University Medical Center was incredible," Cota Ramirez says. "I wouldn't have made it without the support and care only seen at this medical center."