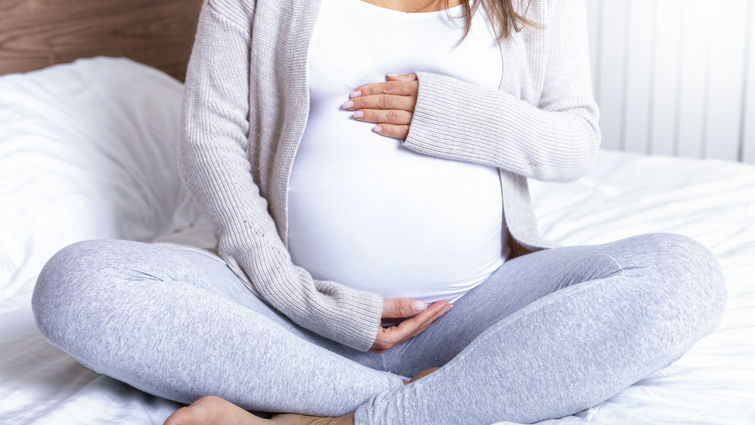 With the World Health Organization recently declaring the COVID-19 outbreak a pandemic, many people may be wondering what experts are saying about the disease's potential impact on pregnant women.
Ciprian P. Gheorghe, MD, PhD, OB-GYN and maternal fetal medicine specialist, and Courtney B. Martin, DO, OB-GYN and medical director of maternity services at Loma Linda University Children's Hospital, offer some insight:
1. Are pregnant women at a higher risk of contracting COVID-19?
Currently, there is limited information about how susceptible pregnant women are to COVID-19. But according to healthcare experts, like the Centers for Disease Control and Prevention (CDC) and the Society for Maternal-Fetal Medicine (SMFM), because of the changes occurring in women's bodies during pregnancy, they are generally more at risk of contracting viral respiratory infections.
"Because of this higher susceptibility to other infections, it's reasonable to think that these women may be at a greater risk for developing severe illness compared to the general population," Gheorghe says. "However, there isn't published evidence to completely support that at this time."
"Pregnant women who have other comorbidities like preexisting diabetes and heart, lung or kidney disease are considered to be high-risk if they contract the virus," Martin says.
2. If a pregnant woman contracts COVID-19, will the disease be transmitted to her infant?
"Research has been conducted on several cases of infected moms and their newborn babies," Gheorghe says. "So far, there is no evidence of the disease being passed through the cord blood or amniotic fluid of the mom to the baby."
However, during a vaginal delivery, Martin says the virus can be detected in maternal blood and feces, which in many cases, the neonate can be exposed to at time of delivery. "Because of this, our OB-GYNs at Children's Hospital are taking extra precautions to ensure the baby is safe from this exposure," she says.
3. If a pregnant woman contracts COVID-19, will her pregnancy be more at risk for miscarriage, congenital disabilities or preterm birth?
"While we don't have any published evidence to support this, in any case, if a mother gets really sick herself, the pregnancy is going to be more at-risk," Gheorghe says.
However, he says the SMFM has been comparing data from the 2003 severe acute respiratory syndrome or SARS epidemic, which showed some increase in adverse pregnancy outcomes, although those might have been related to the severity of the illness. There was no reported increase in miscarriages or congenital disabilities.
While preterm delivery has been seen among some pregnant women who contracted COVID-19, the SMFM says it isn't yet clear whether those deliveries were directly related to the mom's infection.
4. Can the virus be transmitted through breast milk of a mom feeding her newborn?
"The only known route of transmission right now, per the CDC, is droplets from when someone coughs or sneezes," Gheorghe says. "But if a mom is breastfeeding her baby, they will be in extremely close contact. If the mom were to cough, the baby would be exposed to droplets."
"Currently, the CDC and SMFM are recommending we separate mothers who are under suspect for being COVID-19 positive and their babies," Martin says. "But we will continue to encourage and promote breastfeeding in the safest methods possible because this is so important for an infant.  
5. How can pregnant women protect themselves?
"Pregnant women should follow the same CDC guidelines as the general public," Gheorghe says. These include:
Cover your cough
Avoid people who are sick
Clean your hands often using soap and water or alcohol-based hand sanitizer
"Pregnant healthcare workers should avoid high-risk aerosolizing procedures," Martin says. "If that's not possible, make sure to wear the proper personal protective equipment."
6. What extra precautions should pregnant women take?
Gheorghe recommends pregnant women be as careful as possible not to contract the disease. The main things to avoid are:
Unnecessary travel
Public gatherings
Contact with others who have any type of illness
Martin says it's imperative that while pregnant woman are taking extra precautions, they continue their prenatal care — including appointments with their OB-GYNs.
"We are moving some appointments to telehealth, but some in-person visits are necessary for the best care possible," she says. "Children's Hospital's OB-GYN department is working closely with healthcare officials to continue the best practices being followed across the nation during this pandemic."
Gheorghe also wants to remind pregnant women that there are still many unknowns about COVID-19. However, information surrounding this disease is being updated daily.
Visit the CDC's website for the most up-to-date information and resources.