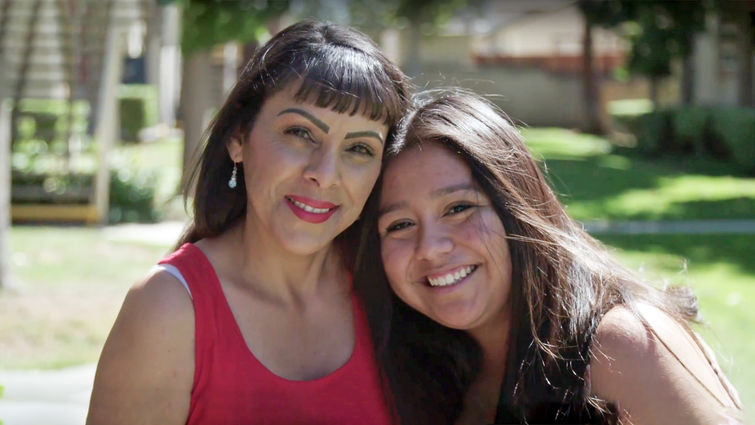 Zakari Davis had one goal: to find peace. The 16-year-old adopted daughter of Janine Davis came to the Behavioral Medicine Center's youth partial hospitalization program at a time when she felt there was no point in continuing her life.
"I don't think I'd be here without the Behavioral Medicine Center," Zakari said. "I tried every therapist — I tried going everywhere to talk, and nobody could help me the way the behavioral health institute helped me."
Zakari's birth mother was in prison, leaving her and her six siblings up for adoption. This became an answered prayer for Janine Davis, who had prayed for a child. "She was my miracle," Janine said.
At the time of Zakari's adoption, Janine began seeing a man whom she decided to marry. Janine's new husband adopted Zakari during the marriage, but Janine quickly realized she did not know everything about Zakari's new father.
"I wish I could have known that deciding to include another person in our lives was going to send us into a whirlwind that ended up being a very abusive relationship," Janine said.
This abuse was not only directed at Janine. "There was constant screaming, yelling and fighting around the house," Zakari said. "He began to become very abusive towards my siblings and me." When the abuse affected the children, Janine separated and filed for divorce, agreeing to 50-50 custody. This was when Zakari's anxiety began.
"I felt the anger from my adoptive father," she said. Zakari's adoptive father didn't like that she preferred her adoptive mom more than him, Zakari said. "One day during a visitation I told him I didn't want to be with him anymore; I wanted to be home. He took me to the house after that and beat me for what felt like hours."
The trauma of this abuse had to be relived each time Zakari had to retell the story in court. "Not only was I terrified of him, but reliving the experience over and over forced me to feel that pain again each time," she said.
After this, Janine sent Zakari to California to live with her aunt while Janine stayed in Florida. "With Zakari in a different state, I wouldn't have to worry about him finding her at daycare while I'm at work and things like that," Janine said. But the move was not easy on Zakari.
"I felt like she didn't want me," Zakari said. "I remember crying myself to sleep and hearing her on the phone saying that she was going to see me soon and just not believing her. I thought she was never going to come back."
When Janine did come to California, she realized Zakari had lost faith in her family and had not healed as well as Janine hoped. "One day at school, I saw my friend had been hit by her father. It triggered me, I called my mom and I said 'I need to go home now.'"
Zakari began to spiral, feeling herself pulling away from everything around her, she said. "After weeks of just lying in bed, I finally told my mom I needed help, or I couldn't survive much longer."
Janine began searching for someone to help Zakari. "I kept telling her you're not going to die — you've got this," Janine said. "I said 'Remember, you're my miracle,' and she would scream 'I'm not a miracle, I'm nothing! You see the miracle because it was your dream, but I see nothing!'"
Janine looked across the country for something, thinking if she couldn't find help, her daughter was going to die. One day, Janine called Loma Linda University Health, and the operator told her about the Behavioral Medicine Center's youth programs.
"Next thing I knew, we had an appointment, and for the first time in a long time, I felt hope for Zakari," Janine said.
Zakari recalls being afraid for her first appointment. "I didn't want to open up or befriend people," she said. "I didn't trust that they could bring me peace."
Zakari was diagnosed with anxiety, depression and post traumatic stress disorder triggered by her experiences. As she began to open up to the people at the center, she started to engage in coping mechanisms taught to reduce the side effects of her diagnoses. "I was taught things like cognitive mindfulness," she said.
There were classes for Janine as well, which taught her to let go of control. "It's scary, but I had to let her live her story," she said. "The Behavioral Medicine Center helped me realize that that's okay."
"When people are lost, or when they feel hopeless, we at the Behavioral Medicine Center want to be there," said Glenn Scott, LCSW, director of the youth partial hospital program at the Loma Linda University Behavioral Medicine Center. "When Zakari and Janine found us, they did not know that there was hope and that there were people who could help," he said.
"It's great not to feel alone anymore, and to be around people who understood that need for peace," Zakari said. "The behavioral health institute saved my life by helping me see my purpose and realize that I want to help others like me find the peace they deserve."