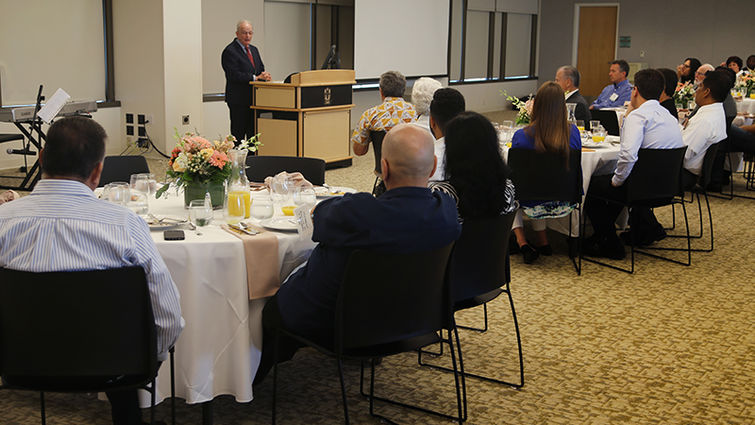 A family has gathered in the surgery waiting area at Loma Linda University Children's Hospital. The sun is setting, and nearly five hours have passed since they last saw their child. They receive word that surgery is over and her surgeon will soon meet with them, and while they wait, their pastor prays with them. Later that evening, a family arrives at the hospital. They are frantic, having learned that the wife's father was taken to the emergency department after experiencing symptoms of a heart attack. One of the first calls they will make the next morning is to their church.
At Loma Linda University Health, 47,740 patients were discharged in 2015; and there were 114,812 emergency department visits. Each of these represents a story. As they face illness, trauma and fear of the unknown, many patients and their families reach out to their places of worship.
Just as Loma Linda University Health's hospitals never close, clergy from throughout the region are on call, tirelessly providing spiritual care to Loma Linda's patients.
Each year, they are invited to a Clergy Appreciation Breakfast at Loma Linda University Health. The theme of this year's breakfast was "connectedness."
After the participants were welcomed by Gerald Winslow, PhD, director, Loma Linda University Institute for Health Policy and Leadership, Rabbi Hillel Cohn spoke on "Connecting Faith and Health." Using simple but powerful illustrations, he reflected on the experiences that each member of the clergy shares as they work with families, helping to mark milestones including officiating in marriages and bringing comfort to individuals and families in times of sorrow.
Hillel Cohn highlighted the work that Loma Linda University Health has performed since its earliest days. "The motto of this great institution," he said, "'to make man whole' is descriptive of the work that has gone on for decades and continues to go on here at Loma Linda University Health. I know of few, if any other similar institutions that actually 'walk the talk' of their motto. In so many ways this Medical Center understands and treats its patients as whole persons and genuinely respects all of the various parts — physical, intellectual and spiritual — that come together to make the whole person."
During the Clergy Appreciation Breakfast, two Faith and Health Leadership Awards were presented. Recipients were Hillel Cohn, rabbi emeritus, Emanu El in San Bernardino, and James Greek, head chaplain, Loma Linda University Medical Center.
"We consider the work of each clergy member a blessing not only to their individual congregations," says Winslow, "but to our local communities as well. Our patients and our communities are healthier because of their tireless, ongoing service."
A prayer by Alden Solovoy, a contemporary poet and liturgist, that was read by Hillel Cohn expresses the immensity of this work:
God of old,
We are flesh and blood,
Imbued with Your Divine spark,
Strong but vulnerable.
You have blessed us with men and women
Who dedicate their lives to health and healing,
Preventing disease, reducing pain,
Prolonging lives, providing hope.
God of life,
Watch over all who work in the healing professions
As they serve us in the times of our deepest needs.
Bless their hands with kindness,
Their eyes with courage,
Their hearts with sincerity,
And their soul, with love.
So that they become
A fountain of healing.
Bless them with fortitude and strength.
Grant them satisfaction and success at work,
Joy and rest,
Security and peace in their lives.
Rock of Ages,
Bring an end to pain and suffering,
So that all may know
Your compassion and Your grace.
Bless all who serve in the medical professions
With your warmth and shelter,
Even as we bless them
With our eternal gratitude and love. Amen."
At the end of his talk, Hillel Cohn encouraged the participants, "…when we come closer to being whole we enable the people whom we lead to come closer to being whole. We are gathered here this morning by a great institution that has as its overarching mission to make the human whole, to enable the human to truly experience Shalom, wholeness, completeness for that is fundamental to good health, good emotional, physical and spiritual health.
May God bless each and every one of us as we continue to strive for our own wholeness and as we continue to help others attain their wholeness."