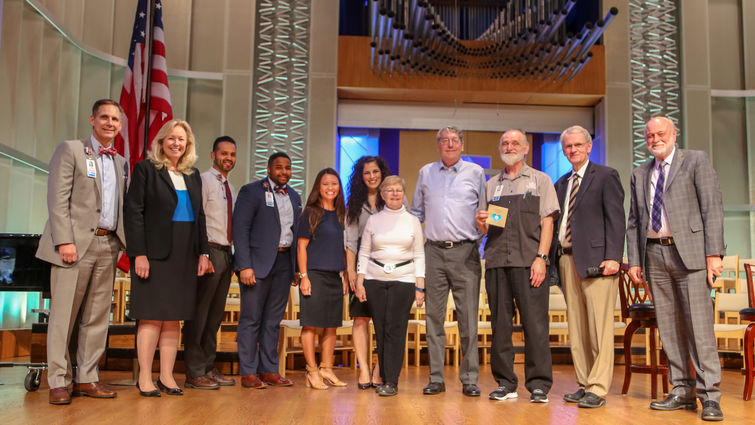 John McGinnis, an environmental health services worker at Loma Linda University Medical Center – East Campus, was recently honored in front of administrators and leadership for the part he plays in post-operative patient care.
At the Loma Linda University Faculty Colloquium on Wednesday, McGinnis was recognized through the Grateful Patient Program by the Healing Hands team, Medical Center administration and East Campus administration.
The Healing Hands program enables patients and their families to give a gift of any amount — and direct it to any area they would like to support throughout the organization — along with a note to the caregiver, honoring them for their exceptional care.
McGinnis, who works to clean and disinfect patient beds after they are discharged, is meticulous about maintaining a clean environment for patients. Anne Edwards and her husband Rex were two people impacted by the work conducted by McGinnis this past June.
After undergoing a total hip replacement surgery, Anne was a patient overnight at the East Campus facility. With Rex by her side, she was placed in a three-bed room, alone after another patient was discharged within a few hours of her arrival.
As he sat in the room while she recovered from anesthesia, Rex noticed some key people who serve the organization, but whom often go unseen. The evening following Anne's surgery, McGinnis arrived to clean and prepare the bed and surrounding area for the next patient. "At first, other than a quick glance, I did not pay much attention to the work being performed," Rex said. "I think that for the most part, employees doing this work are invisible because we are so focused on the patient and ourselves."
However, Rex did begin to pay more attention to the unoccupied beds being cleaned while his wife slept, noticing how detailed McGinnis was at disinfecting the area. "He spent a fair amount to time prepping the room, and from my perspective, did an exemplary job," Rex said.
"I then started thinking about the thousands of patients that come through hospitals on a daily basis, who never see these extremely important, but unseen, people," Rex said. "We are all painfully aware that an infection acquired in a hospital can have deadly consequences, and I have been very impressed with Loma Linda University Health's strict protocols to minimize the risk of a hospital-acquired infection."
Rex decided to reach out to Healing Hands, which was created in response to patients — or anyone receiving care on the Loma Linda University Health campuses for any reason — who want to express their gratitude by doing something specific.
"We rarely see people doing this job, but I think it's important to recognize the people who have a great impact on the success of patients' hospital stays" Rex said. "It's great to see someone who takes their work seriously and does an outstanding job. I wanted to honor John McGinnis for the work he did to keep my wife healthy and safe."
McGinnis, who was unaware he would be recognized at the faculty colloquium, was quick to share the praise. "It was surprising to be given this honor," he said. "I mean, I'm not the only one there; we have a lot of people who do the same great work. We work together as a team. We try to do our best, is all I can say. God takes care of us, and we take care of you."
Visit the Healing Hands Grateful Patient Program website to learn more. You can also call the Loma Linda University Health Office of Philanthropy, Healing Hands Grateful Patient Program at 909-558-4438 or email healinghands@llu.edu.