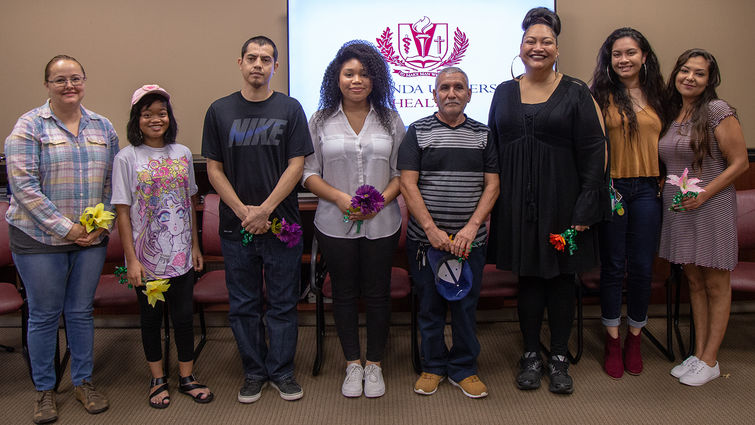 The Transplant Institute recently held a ceremony bringing together the members of the longest paired-donation kidney organ exchange ever performed entirely in-house at Loma Linda University Health. 
The four organ donors and four recipients shared their stories and offered their thanks to each other and the transplant team during the June 29 reunion. The members of the donation chain sat in a row of eight chairs.
At far left: Tracy Newton, who signed up to donate a kidney altruistically, without personally knowing anyone who needed one.
At far right:  Maria Gomez, who needed a kidney but didn't know anyone able to donate.
In between: Thya Broadway, who wanted to donate to her sister, Asia Khem; Melody Save, who wanted to donate to her mother, Josephine Save; and Luis Jara, who wanted to donate to his son, Mauricio Reyes Valdes.
Sisters Thya and Asia were not compatibly matched. Neither were mother Josephine and daughter Melody. This is where the hopeful work of transplant coordinators begins to create a chain of swapped donation pairs through which everyone's life is saved.
Father and son Mauricio were a match. So why did they participate in the swap? To help others.
Stories from the donation chain
Over two days of surgeries April 23 and 24, Tracy Newton donated her kidney to Asia Khem, whose sister Thya Broadway donated her kidney to Mauricio Reyes Valdes, whose father Luis Jara donated his kidney to Josephine Save, whose daughter Melody Save donated her kidney to Maria Gomez. 
Several news organizations broadcasted stories filmed at the reunion. Click to check out a few of the clips:
            ABC 7 Eyewitness News: "Eight-person kidney exchange"
            KESQ-TV: "Sherriff deputy's altruistic kidney donation helps many"
            NBC 4 News: "Kidney Donors are Reunited with Their Recipients"