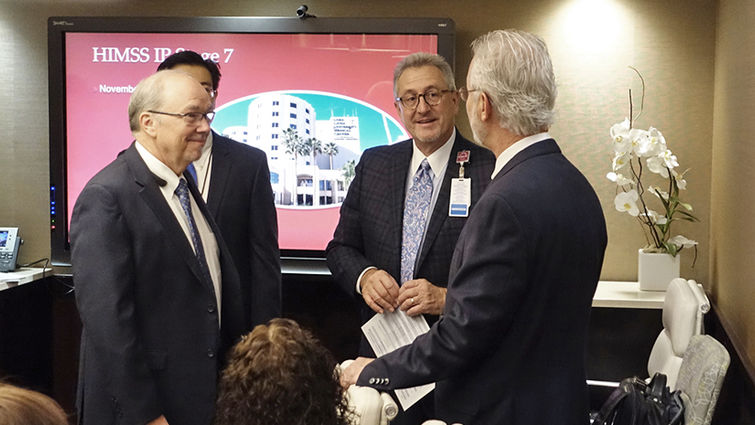 Loma Linda University Medical Center, Children's Hospital, Surgical Hospital and East Campus have achieved Stage 7 of the inpatient Electronic Medical Record Adoption Model from Healthcare Information and Management Systems Society (HIMSS) Analytics.
The awarding of this highest status — held by only 6.1 percent of U.S. hospitals — reflects Loma Linda University Health's commitment to providing the best patient care through employing health information technology.
HIMSS Analytics gave the Stage 7 designation during a survey visit to Loma Linda on Nov. 7. The organization will publicly recognize Loma Linda University Medical Center at its 2018 HIMSS Conference & Exhibition, to be held from March 5-9, 2018, in Las Vegas.
The November site visit was conducted by a three-person team, led by Philip Bradley, North American regional director for the Healthcare Advisory Services Group at HIMSS Analytics.
The survey team complimented Loma Linda University Health on specific accomplishments including robust use of data, a true partnership between operations and information technology, staff enthusiasm, effective case studies demonstrating the use of data analytics to drive positive change, and Transfer Center dashboards and management. 
Bradley singled out an exceptional example in the area of pharmaceutical management.
"Loma Linda University Health's commitment to excellence is seen in their use of technology to calculate vancomycin dosing, especially in pediatric patients," Bradley said. "And special congratulations on having this effort published in an upcoming pharmacy journal!"
Stage 7 recognition is proof of the medical staff's conscientiousness for their patients, said Mark Zirkelbach, MPA, chief information officer at Loma Linda University Medical Center.
Chief Medical Information Officer Francis Chan, MD, said, "Our health care team will continue to utilize digital technology to improve the care of our patients and to fulfill the mission of our institution."