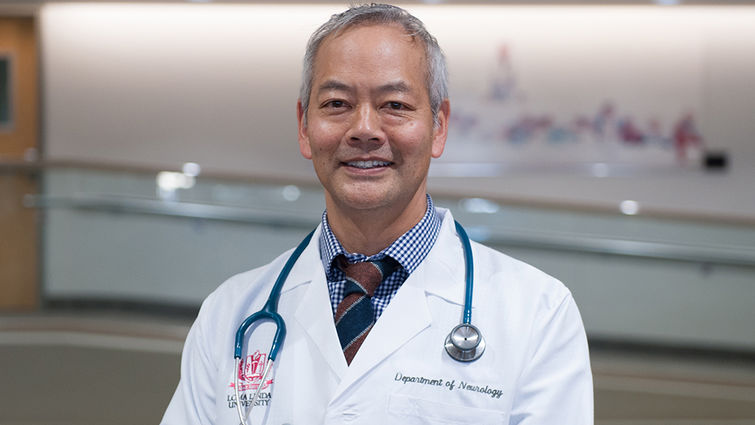 Loma Linda University Health's electrodiagnostic laboratory has been accredited for the next five years with exemplary status by the American Association of Neuromuscular & Electrodiagnostic Medicine. Exemplary status places the laboratory in an elite group of only 11 organizations in the state of California that have met the stringent requirements of the designation.
The news came in the form of a letter addressed to Bryan Tsao, MD, chair of the department of neurology, director of the electrodiagnostic laboratory and director of the Rehabilitation, Orthopedic & Neuroscience Institute at Loma Linda University Health. In it, AANEM President Eric Sorensen, MD, said the laboratory has demonstrated clinical excellence and confirmed its commitment to providing the highest quality of healthcare. "On behalf of the AANEM Board of Directors, we extend congratulations to you and your laboratory staff," Sorensen stated.
Tsao, who said he was pleased to learn about the exemplary status, said the laboratory was first accredited in 2012, the year AANEM started the accreditation program. He added that the accreditation process involves an extensive review.
"It is a comprehensive, peer-reviewed process in which the experience, the education and the qualifications of all physicians and nerve-conduction technicians are reviewed," Tsao said. "This includes a review of all procedures, protocols safety measures and our ongoing quality-review process. As a result, we believe our electrodiagnostic laboratory offers the highest quality of care in the region for our adult and pediatric patients."
The process does not involve a site visit, but Tsao said the accreditors use a comprehensive set of tools to conduct their standardized evaluation. He said the laboratory is staffed by seven subspecialty-trained neurologists, one physical medicine and rehabilitation specialist and two full-time nerve-conduction specialists. The main laboratory is located in Suite B-100 of the Faculty Medical Offices, 11370 Barton Road in Loma Linda. Satellite offices are located in the professional building of Loma Linda University Medical Center-Murrieta and in the Riverside University Health System Medical Center in Moreno Valley.
EMC Assistant Felicia Hallock says patients frequently tell her they appreciate the higher level of care they receive at the lab. "I have heard from patients that Loma Linda University Health pays close attention to details," Hallock said, adding that they appreciate the fact that LLU physicians take the time necessary to get accurate and precise information from comprehensive testing procedures.
While acknowledging that participation in AANEM accreditation is voluntary, Tsao noted that exemplary status designation is only bestowed on the finest electrodiagnostic laboratories. He adds that the ultimate goal of AANEM accreditation is to provide a credible and independent measure of a laboratory's quality of care.
"We probably have more fellowship-trained and experienced specialists than any other lab in Southern California," Tsao said. "Our quality is defined not just by accreditation, but also by our reputation for consistency and excellence."