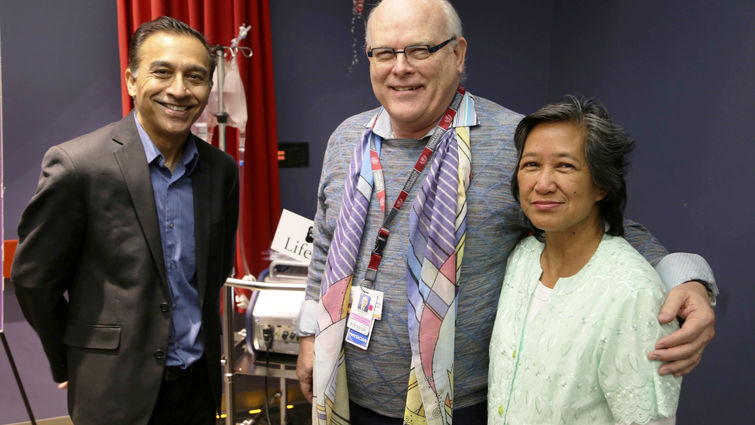 Physicians, nurses, administrators, employees, and patients of Loma Linda University Children's Hospital (LLUCH) turned out in droves to welcome the latest in 21st century lifesaving technology—the CARDIOHELP System, a suitcase-sized heart-lung bypass machine—at the ECMO open house on Wednesday, March 23, in the Stater Bros. Activity Center.
As hundreds of guests admired the new machinery and enjoyed refreshments, Farrukh Mirza, MD, medical director of the ECMO program, explained that the acronym stands for extracorporeal membrane oxygenation and describes a lifesaving technique for providing cardiac and respiratory support to patients whose hearts and lungs are struggling.
"CARDIOHELP is a new state-of-the-art machine for providing heart and lung support for critically ill children who have a high likelihood of not surviving with standard medical ICU therapies," Mirza noted.
Aloha Malit, ECMO coordinator, says that while ECMO therapy "will not cure a patient, it gives him or her the time needed to heal. ECMO is generally used until the heart or the lungs recover enough to provide adequate oxygen and blood supply. Patients sometimes receive ECMO support for days or weeks awaiting organ recovery."
She adds that LLUCH has been using ECMO therapy since the mid- to late-1990s and is now employing it for both neonatal and pediatric patients,
While Mirza maintains that the CARDIOHELP System is no different from earlier ECMO equipment in terms of basic concepts, he points out that it differs significantly in terms of size and portability. Billed as the world's smallest and lightest bypass machine, the unit is designed to be useful when transporting patients by ambulance or helicopter in emergency situations.
Another improvement is safety. With CARDIOHELP, employees will no longer have to tiptoe around what Mirza called "a chaotic mess" of tubes and wires associated with conventional ECMO technology. Nor will patients be in as much danger of having some of those tubes and wires accidentally disconnected. "This machine makes it more orderly," he observes.
Malit says the ability to take the unit onboard a helicopter or ambulance represents a major step forward for times when the staff needs to keep track of a number of vital functions while transporting a patient.
"The CARDIOHELP System monitors important blood parameters, including venous oxygen saturation, hemoglobin, hematocrit, and arterial and venous temperature," she notes.
Malit is impressed that while the unit can be connected to the transport vehicle's onboard power supply, it also has an integrated rechargeable battery that provides a minimum of 90 minutes of operating time on its own. The internal power supply will enable therapy to continue unimpeded while a patient is being wheeled from the transport vehicle to the hospital, as well as during other procedures that may require them to travel to other locations.
Malit says the new system is not complicated to use.
"The CARDIOHELP System is operated via an easy touch screen with user guidance," she points out, "and a rotary knob to allow medical personnel with minimal life-support experience to safely use the unit after suitable training."
Near the conclusion of the event, Mirza and Malit were joined by Scott Perryman, MBA, senior vice president and administrator, Richard Chinnock, MD, medical director, Shamel Abd-Allah, MD, head of the pediatric critical care medicine division, and Douglas Deming, MD, head of the neonatology division, in a brief presentation on the importance of the new technology to the future of vulnerable pediatric patients in the Inland Empire and beyond.
Mirza concluded his brief remarks with comments that echoed the sentiments of his colleagues. "We are excited to have this new technology," he said, "which means we can continue to provide ECMO support, but it will be a lot safer and in some ways, easier and faster."