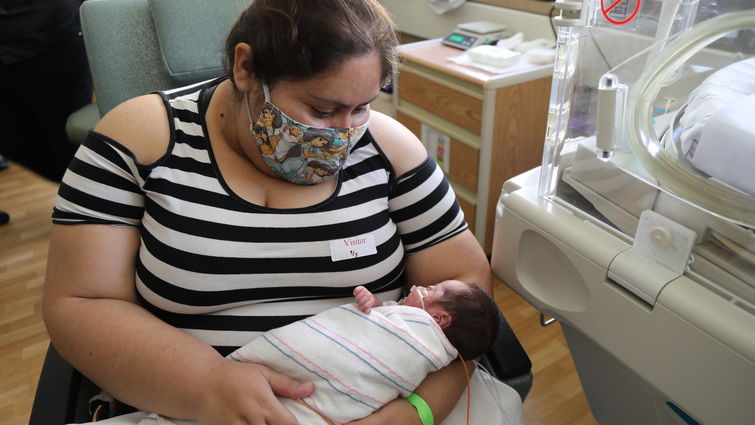 Blanca Rodriguez met her daughter Jade for the first time separated by a facemask, incubator, tubes and wires. While their first interaction was far from ideal for both mom and baby, both had been fighting for their lives against COVID-19 just weeks earlier. 
Jade, born prematurely by emergency C-section, is now under watchful care of doctors and nurses in the Children's Hospital neonatal intensive care unit, where her mother visits her regularly; holding her, talking to her and bonding with her. Blanca, who during her hospital stay had fought extreme respiratory distress and had to be put in a medically induced coma, is now at home after weeks of being isolated in the hospital with COVID-19.
"I know it'll be a long time before I can take my baby home, but I can wait if this will keep her safe," Blanca said. "COVID-19 is not a joke, especially for pregnant moms and babies. It nearly killed me. I'm so thankful for the people at Loma Linda. I'm so thankful for my life and my daughter's life."
The 32-year-old mom from Adelanto, California, was 28 weeks pregnant on July 24 when she was rushed to Loma Linda University Children's Hospital with severe upper respiratory issues and difficulty breathing.
Doctors from both the intensive care unit teams and the obstetrics teams began treating Blanca for severe pneumonia-like symptoms until she tested positive for COVID-19. Blanca had also developed acute respiratory distress syndrome, where fluid gathers in the lungs. The syndrome has a 50% mortality rate in pregnant women. Blanca continued to deteriorate, needing increasingly more oxygen to combat her labored breathing.
Blanca was barely breathing on her own and needing heavy oxygen assistance when Kanwaljeet Maken, MD, a critical care physician at Loma Linda University Health, first saw her.
"The day I took her into my care, I remember thinking this could be very concerning," Maken said. "There were so many moments where I didn't think she was going to survive."
Courtney Martin, DO, OBGYN and medical director for maternity services at Loma Linda University Children's Health, said that three days after being admitted, it became clear to her, Maken and others in Blanca's care team that Blanca's body was failing. Her lungs couldn't handle the strain of exhaustion from trying to breathe, and her immune system didn't have enough strength to fight the disease and support her baby's life.
"The biggest difficulty was that we were managing two lives instead of one," Martin said. "The baby was still severely premature to deliver, but Blanca was not stabilizing."
Blanca needed to be intubated and put on a ventilator. Doctors hoped this would allow her body to rest, recover and give her baby time to grow. Minutes before being intubated, Blanca said a tearful goodbye to her family over FaceTime. No one knew what the next weeks, days or even hours would hold, but there seemed to be a certainty that Blanca's battle would be uphill.
The ICU team placed Blanca into a medically induced coma, intubated her and began working on improving her oxygen intake. However, within hours, Blanca's baby began to lose oxygen herself and went into distress.
Doctors scrambled to coordinate a life-saving emergency c-section for the baby. Nearly 25 people, including doctors and nurses from the NICU, ICU, labor and delivery, and anesthesia teams crowded into an ICU room to deliver Blanca's baby while keeping comatose Blanca alive.
Jade was delivered in the early hours on the morning of July 27. While Jade didn't have COVID-19, both she and her mom remained in critical condition. Blanca received anti-viral therapy, steroids, heavy oxygenation, convalescent plasma and antibiotics for several days after the c-section. Jade was placed on a ventilator in the NICU.
"Blanca's full recovery would be nothing short of a miracle," Maken said.
As days went by, the miracle continued to unfold. By August 2, even though Blanca's fever was still at 102, her breathing was improving and her entire demeanor seemed more positive; she was even trying to laugh. That same day, Maken made the call to take Blanca off the ventilator.
Blanca was released from the hospital on August 6, finally reuniting with the rest of her family after weeks of isolation and separation. She looks forward to bringing Jade home when her doctors say she's ready.