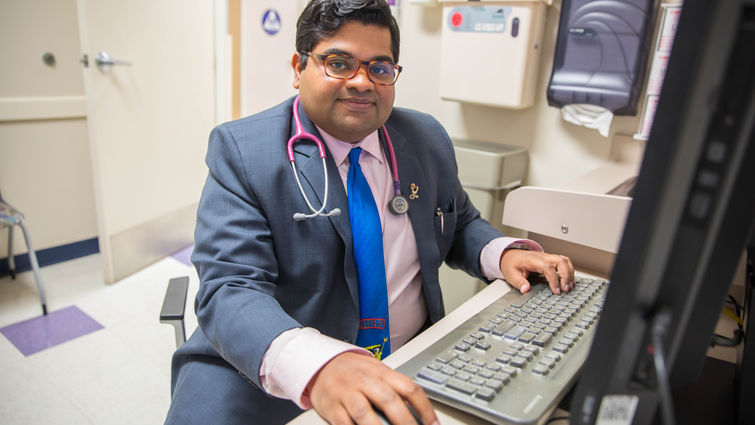 From working as a lead on the team who performed Loma Linda University Children's Hospital's first stem cell transplant in a sickle cell disease patient, to helping mold a program that can absorb hundreds of sickle cell and hemophilia patients, Akshat Jain, MD, MPH, is striving to provide comprehensive, life-changing care for children suffering from sickle cell disease and hemophilia in the Inland Empire and beyond.
Jain is originally from Jaipur, India — he trained in India, Mauritius, Africa, and completed his specialty training in New York. Now, as a pediatric physician specializing in hematologic disorders at Children's Hospital, Jain is passionate about the large, diverse patient population in San Bernardino County.
Jain was invited to Children's Hospital in 2017 to create a program to help hemophilia in the Inland Empire, where no programs existed to treat the disease across 25% of California's land mass.
"We have a sizable patient population, and Children's Hospital is it when it comes to diseases and conditions like hemophilia and sickle cell disease — life-threatening conditions," he adds.
Since establishing the program, Jain says the team has established care with more than 300 sickle cell families and more than 120 hemophilia patients — more patients than in some of the largest programs on the west coast.
For his incredible work both nationally and internationally, Jain was selected as the 2020 Presidential Young Physician of the Year by the American Association of Physicians of Indian Origin.
Jain cares immensely for his patients and their families, understanding the struggles families face when their child is suffering from these diseases — struggles including lengthy travel, juggling of finances, difficulty with schooling, extreme physical exhaustion and mental discouragement from the long-term battle.
Through the program at Children's Hospital, Jain and his team empower and encourage the families. Along with quality care, they offer non-traditional services such as individualized patient treatment plans called "roadmaps." If a child needs emergent help, instead of sorting through hundreds of charts, first responders can quickly access the patient roadmaps and follow step-by-step instructions needed for that child's specific condition, providing timely, life-saving care.
"If a sickle cell or hemophilia patient is in distress, their lives can end in a matter of minutes," Jain says. "We provide this roadmap so precious seconds are not wasted."
He and his team are now working with a new group of sickle cell patients who are eligible for stem cell transplant. The life-changing and often life-saving transplants began in late 2019. The program is even working to offer curative gene therapy for sickle cell and hemophilia patients with support from Children's Hospital. Jain is hopeful about the future of the program and excited for the life transformation it could provide for hundreds of kids.
"While there are challenges in any comprehensive program, I know when doctors and their teams have a passion for what they're doing and when there is intent and resources to provide quality services for all patients, things fall in line," Jain says. "Children's Hospital is thrilled to be providing these incredible services for current and future patients."
Learn more about our treatments for sickle cell disease and hemophilia at our Specialty Team Centers.