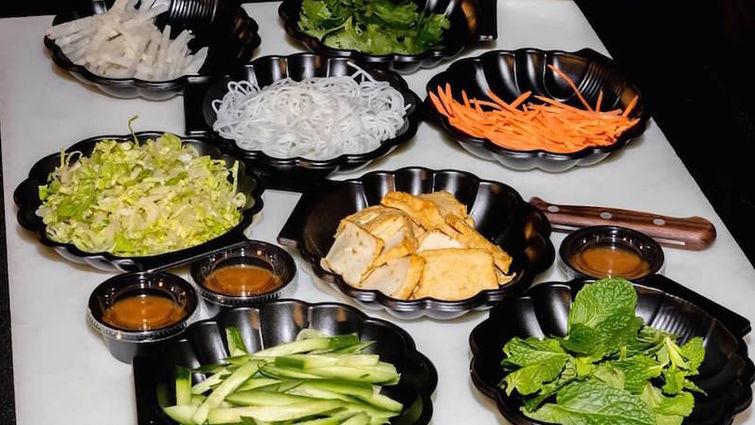 Six of the Inland Empire's finest chefs satisfied the discerning palates of the approximately 325 guests who attended the 17th annual Dishes for Wishes cooking demonstration, shopping extravaganza and gourmet dinner, held Thursday, Nov. 17 at the National Orange Show Events Center in San Bernardino.
"Soup's On" was the title for the 2016 edition of the event in which guests watched chefs prepare their signature dishes on stage while local law enforcement officers served portions of the delectable creations tableside.
The evening program is sponsored by Big Hearts for Little Hearts Loma Linda Guild, an organization dedicated to raising funds and sponsoring projects and programs that benefit the patients of Loma Linda University Children's Hospital and their family members.
Chefs from The Eating Room and Dough L'ectibles, Romano's Italian Restaurant, Dhat Island Caribbean Creole Cuisine, Watercress Vietnamese Bistro and Loma Linda University Catering all participated in the event.
As a special treat, Sherry Nolfe, LLUCH executive director of patient care took to the stage with her recipe for parmesan rosemary scones.
Guests were served by more than 20 men and women in uniform from Colton Fire Department, Loma Linda Fire Department, Redlands Fire Department and San Bernardino Sheriff's Department. All tips collected were donated to Children's Hospital.
Teen Challenge, a program for boys who are trying to turn their lives around after drugs or addiction, provided 14 additional servers for the event as well.
In addition to warm comfort food and exemplary service, guests were able to shop from nine vendors, all of which will be donating 20% of their proceeds back to LLUCH.
As the guild begins its 18th year this January, the more than 150 members of the organization take pride in the fact that they have collectively raised more than $1.6 million to purchase needed equipment and fund crucial services at Children's Hospital. In addition to Dishes for Wishes, the group also hosts reading festivals in spring and autumn, a birthday party for hospital mascot Luke the Lion in summer, a gingerbread village in the hospital lobby and other holiday events during the Christmas season.
"We were thrilled to see such a great turnout," said Dixie Watkins, co-president of the guild. "Everyone seemed to really enjoy it and many of the guests told me the food was some of the best ever. Of course, Martha Green outdid herself as Mistress of Ceremonies. She always finds a way to inject lots of humor and spice into her presentation, and she was certainly in top form tonight."
Corporate Hearts Sponsor Lexus of Riverside contributed $20,000 to the total and other individuals and organizations joined hands to help the guild help the children. Guild Treasurer Penny Moores says that altogether, the 2016 Dishes for Wishes event raised over $50,000 in sponsorships, tickets and sales of boutique items.
Along with Eloise Habekost and Nancy Varner, Watkins was one of three women who founded the guild in 1999.
"We love children," she notes, "and wanted to do something to help the most vulnerable kids in the Inland Empire. We thought perhaps we could make a difference by providing fun activities and diversions that take their minds off the fact that they are in the hospital and let them reconnect with the simple joys of just being a kid.
"Our wish is that all children could always enjoy robust health," Watkins concludes. "Since they can't, we do our utmost to brighten their days and let them know that somebody cares."
Story by Jim Ponder & Briana Pastorino