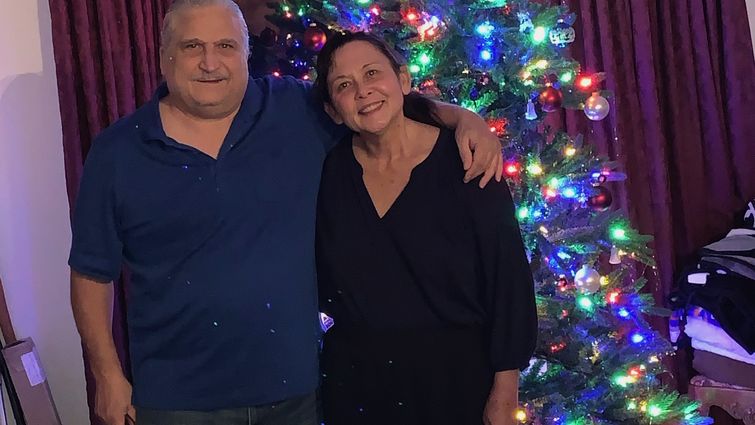 A pessimistic view of life was a new trait Esther Lewis figured would stick around forever. After being turned away by multiple doctors, Lewis, wheelchair-bound and needing both hips replaced, finally saw light at the end of the tunnel — it was Loma Linda University Health's Thomas Donaldson, MD, with tears in his eyes.
Methicillin-resistant Staphylococcus aureus (MRSA) infected Lewis' blood, devastating her entire body. The acute pain was paralyzing, resulting in her relying on medical staff and family for basic daily activities, such as using the restroom.
It was a terrifying and depressing time for me, and I had no hope.

Esther Lewis
"Having been able to walk most of my life, while paralyzed I would often wake up in the mornings and start to get out of bed to make coffee as I had done every day prior to the infection. Then I would remember I was bed- and wheelchair-ridden," Lewis said. "It was a terrifying and depressing time for me, and I had no hope."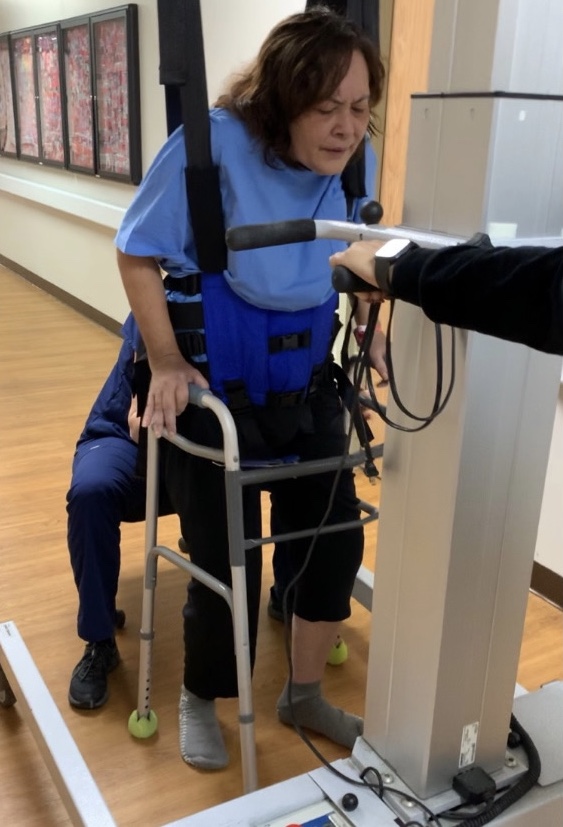 Unable to track how the infection started, Lewis was determined to regain physical health in her hands, arms, legs, back, and heart. She transferred to Loma Linda University Health Orthopaedics in January 2020, already not able to walk for nearly three months and the severity of her condition was not yet detected. Joseph Johnson, MD, investigated avascular necrosis, discovering her hips dislocated and severe damage to both femoral heads. To rid her body of MRSA, Johnson removed the femoral heads, a common practice in severe cases, finally giving Lewis an infection-free body and essentially "no hips," Donaldson said.
Now, in unbearable pain, she needed a double hip replacement — and fast. Donaldson did what the other doctors she visited did not do: he accepted her case and gave her hope to walk again. "Dr. Donaldson was the only surgeon skilled and compassionate enough to help me. All of Loma Linda University Health changed my rather dark view of the world," Lewis said. "I am forever grateful."
Before surgery, Donaldson shared with Lewis and her husband, John, the possibility of the hip replacements not lasting. An unresolved or leftover infection reattacking the new hip joint could cause the replacement to fail prematurely. The persevering Lewis kept a headstrong mindset and prepared herself for full reconstructive surgery in April 2021. "It turned out great," Donaldson said. Four months later, he performed a second successful reconstruction on Lewis.
People like Esther prove why we do what we do!

Dr. Thomas Donaldson
A grinning, well-postured, unrecognizable woman stood in front of Donaldson. His eyes swelled upon the realization that standing before him was Lewis, once defeated by the circumstances, now able-bodied and self-sufficient.
"People like Esther prove why we do what we do! We transformed this woman into someone who came here and gave her life again," Donaldson said.
Losing the capability to walk opened Lewis' eyes to new activities she never knew she wanted to try before, including hiking and horseback riding. Her and John's active travels and bike-riding escapades will continue in her ability to walk alongside her husband but, what she looks forward to most every day is getting in and out of bed on her own. "John did practically everything for me for nearly two years," Lewis said. "He has earned his halo."
Learn more about the Loma Linda University Health orthopaedic team and services they provide at https://lluh.org/orthopaedics.