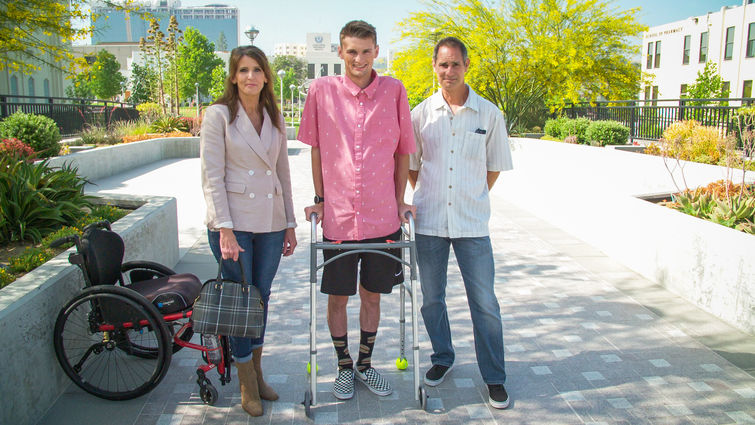 Alexander "Al" Harris pushed himself up from his wheelchair and slowly but surely made his way across his high school graduation stage on June 13. The feat, 10 months after a serious spinal injury in a motocross accident, elicited a standing ovation from the crowd. His accomplishment came after months of physical therapy following an all-night surgery at Loma Linda University Children's Hospital.
Graduating high school is usually a milestone for most, but for Harris walking across the graduation stage to get his diploma was the real reward. 
"I had set goals, Harris said. "I wanted to walk. I wanted to get on a bike again. Having those goals helped me get here." 
That moment wasn't guaranteed for Harris because he first had to learn to walk again after breaking his neck in the accident.  
"It's inspiring to watch the progress he has made," Peggy Harris, Alex's mother said. "Ten months ago, he couldn't move his arms. Without the care he received, the speed of his surgery and the recovery, he wouldn't be where he is right now."
Last August, Harris was at his professional motocross debut when in mid-jump his foot caught, tossing him off his bike and over the handlebars. Harris was no stranger to accidents, having sustained previous bike injuries. Except this time was different. He knew it instantly when he couldn't feel anything.  
Harris had shattered his C5 vertebra and was experiencing pressure on his spinal cord. He would need surgery immediately if there was any hope for him to regain any movement, let alone walk again.
"Before I came to the hospital, I couldn't move anything," Harris said. "As soon as I arrived at the hospital, I was able to move my arm a little. I was very happy that I could move something."
Harris was transported to Loma Linda University Children's Hospital, where Tanya Minasian, DO, a pediatric neurosurgeon, performed the surgery.
"When you see an injury like Alex's come in, that gut feeling is awful. You want to understand why this injury has happened to a seventeen-year-old," Minasian said. "Then, your mind kicks into the next gear: what are we going to do to give him his best chance? From that moment on, all I could think was to work quickly, efficiently and operate all night — do whatever it takes to save what I can."
Spinal cord injuries are complicated, and there was no guarantee of what couldcome from surgery. Before going into surgery, Minasian warned the family that the extent of the damage could leave Harris quadriplegic for the rest of his life, but she would do everything possible to save what she could. The overnight surgery involved removing the shattered bone, relieving pressure on Harris's spinal cord and inserting a titanium cage in place of the bone with a plate and screws. 
"Ultimately, surgery is 50% of healing an injury like this," Minasian said. "The other half is the hard work Alex had to put in to get here."
For Harris, an essential part of the recovery process was setting goals. It helped him stay positive and gave him something to work toward — walking at graduation. "My main goal was to get back to life again," Harris said. 
After surgery, Harris reached many milestones over the course of 10 months and daily physical therapies. During his first visit with Minasian two months following the surgery, he could lift his arms above his head. By March, he was walking in the clinic. "Everyone was crying in the clinic when we saw him walking," Minasian recalled. "Tracking that kind of progress has been amazing to see."​
"The highlight of my year was attending Al's graduation ceremony, at the request of Al and his parents, and cheering for him as he walked across the stage," Minasian said. ​
For Harris's parents, each day with Alex is a blessing. "We want to ensure he is independent and can take care of himself. Each day he's getting there, and we can't be thankful enough," Peggy said. ​
So what goals are next for Harris? One includes attending Citrus College in the fall to become a personal trainer and the other to get back on a motorcycle someday, starting first with his dirt bike. 
Thinking back on this year, Harris offers this advice to others. "It's important to not give up, don't get down, set goals, and stay positive."​
Interested in treatment for spinal cord injury? Inquire about spine surgery at Loma Linda University Health. To schedule an appointment with a neurosurgeon, call 909-558-6388 or toll-free at 877-558-0800.