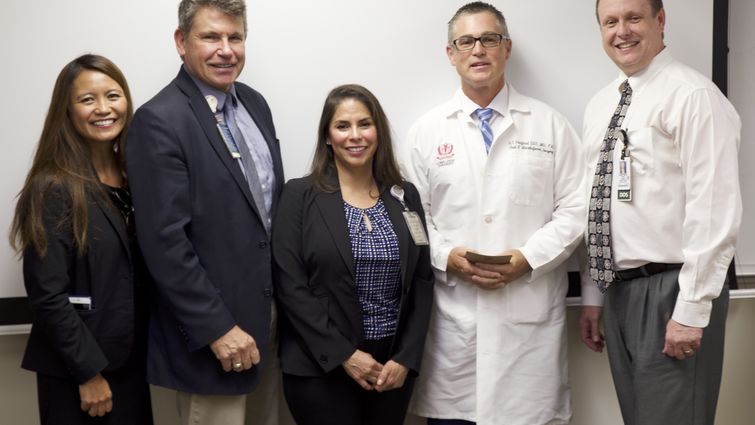 When Linda Wu found out her 22-year-old, autistic daughter needed her wisdom teeth removed, she was worried.​
"As a family, we were really concerned because we knew she would not be able to cope or follow directions," Wu said. "She has sensory sensitivity and, like most people, she is afraid of needles."​
That fear dissipated when Wu met Alan S. Herford, DDS, MD,an oral and maxillofacial surgeon and his team at Loma Linda University School of Dentistry. When she told the team about her daughter and her special needs, they went above and beyond to make the experience enjoyable and comfortable. That is what led Wu to donate money — in honor of Herford — through Loma Linda University Health's "Healing Hands" grateful patient program.​
Wu said Herford and the staff went above the call of duty by getting to know her daughter personally. One nurse at the pre-op unit remembered that her daughter's favorite color was pink. The nurse then painted the medical tape pink so that when the IV was placed in her daughter's arm, it would not be as frightening. This playfully intuitive approach left a lasting impression on Wu.​
"I really want to thank the staff for really allowing me as the caregiver to be the advocate for my daughter," Wu said. "They listened and invited my participation for the care process which really eased the fear and created a smooth, trusting, and safe environment for us."​
Herford was surprised by the gesture, but grateful. He believes his signature trait as a surgeon is to go above and beyond with every patient. The oral surgeon said with Wu's daughter in particular, he was comfortable providing a new level of service. To ease her fears he took off his white coat, spent time talking with her and let her know about the toys available to her. Herford wanted to make sure that she knew he was someone here to help, not harm.​
Even with something as simple as holding a patient's hand during a surgery, Herford said, he and his team try to live by the values of the institution: to make man whole. Wholeness to them comes through compassion and providing support.​
"If I could do every surgery for free, I would," Herford said. "I really have a heart for people, and after 18 years as an oral surgeon, my team and I at Loma Linda University Health want our patients to know that helping people is what we are here to do."​
If you feel there is a physician, nurse or any staff member who has made an impact on your care here at Loma Linda University Health, feel free to contact the Healing Hands program to learn how to get involved in the program of gratitude.