Loma Linda University Medical Center (LLUMC) in-patient services recently transitioned from the Cloverleaf Towers to its new home in the Dennis and Carol Troesh Medical Campus. The move, including Medical Intensive Care Unit (MICU) equipment, patients, and care teams, has positively impacted what it means to receive care for a COVID-19 infection at LLUMC.
"The newfound space, improved layout, and enhanced amenities now at our disposal have helped us tremendously in meeting the needs of COVID-19 patients during the pandemic," says Laren Tan, MD, a pulmonary disease and critical care specialist at Loma Linda University Health.
Tan walks through a series of critical improvements available in the new care space that contribute to providing the best care possible for COVID-19 patients.
A new healing environment for patients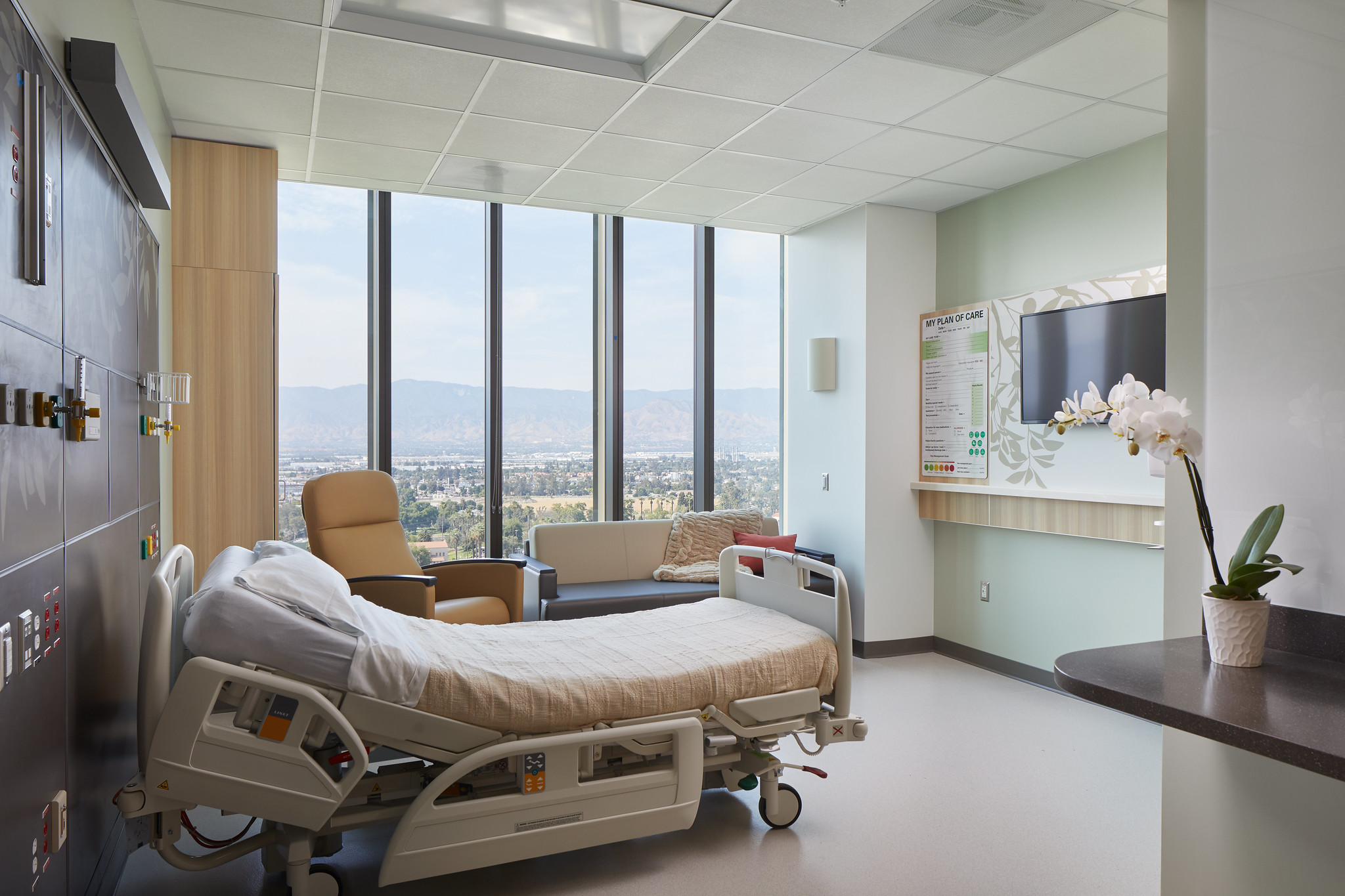 One wall in nearly each of the individual MICU patient rooms perched on the 8th floor is clad in glass, offering not only a view of the surrounding area but also ample natural light that helps patients with day and night orientation, Tan says.
The private, soundproofed, and insulated patient rooms grant patients more comfort and privacy on their journey back to health.
"All these patient experience components help with healing and well-being, as well as play a big role in taking care of patients with COVID-19," Tan says.
Enhanced equipment, technology, and infrastructure
LLU physicians are operating new ventilators, high-flow canula, BiPap, and CPAP machines to provide supplemental oxygen to hospitalized COVID patients. Tan says the equipment is more readily available in the newer facility.
With many hospitalized COVID patients experiencing profound breathlessness and oxygen desaturations, Tan says the ability to provide support for supplemental oxygen is critical.
The oxygen delivery system, originating from a reservoir and traveling to patients throughout 13 hospital stories via a network of pipes, delivers to patients the consistent and appropriate amount of oxygen they need, Tan says.
State-of-the-art computers and monitors enable care team members to monitor patient's vitals, allow physicians to chart and place orders, and facilitate rapid communication. Larger monitor dials, more robust colors, and screen positioning may each seem like minor improvements. Yet, taken together, they help physicians respond more quickly, Tan says. In caring for patients, especially those with COVID-19, seconds matter.
"We are using this newer technology to better assess whether the COVID patient is stable, and our nurses can contact our physicians if something happens that needs to be addressed more readily," Tan says.
Since a COVID patient's condition could change minute to minute, rapid response from care teams is a must, especially to limit the severity of organ damage that could occur and jeopardize overall well-being.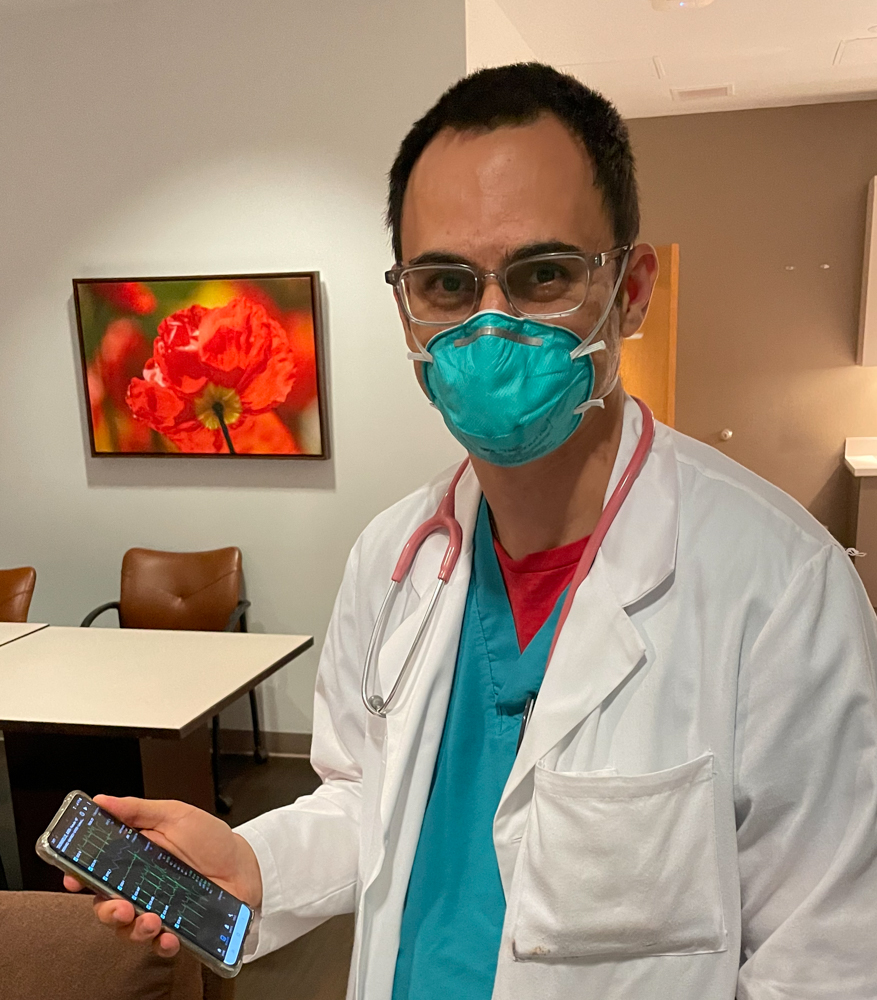 Along the same lines, a powerful state-of-the-art integrated wireless system in the Dennis and Carol Troesh Medical Campus allows physicians to access dynamic patient vitals and cardiac monitoring from anywhere in the hospital, Tan says. The technology enables physicians to access the patient's bedside monitor wirelessly through a computer and even on smart phones. In addition to closely monitoring blood pressure and oxygen levels, the new monitors can perform electrocardiograms (ECG) without requiring an additional machine to perform an ECG exam.
This system is a vital tool for COVID care, he says, as some infected patients are elderly or have multiple comorbidities affecting not only the lungs but also numerous other organs.
"For many COVID patients with underlying heart conditions, we want to make sure we're not missing an irregular heart rhtym and subsequent or simultaneous heart attack in addition to their infection."
This telemetry monitoring wireless system sends patient results to cardiologists and other relevant specialists, leading to prompt recommendations and treatment.
Structural conduciveness to LLU's multi-disciplinary approach to care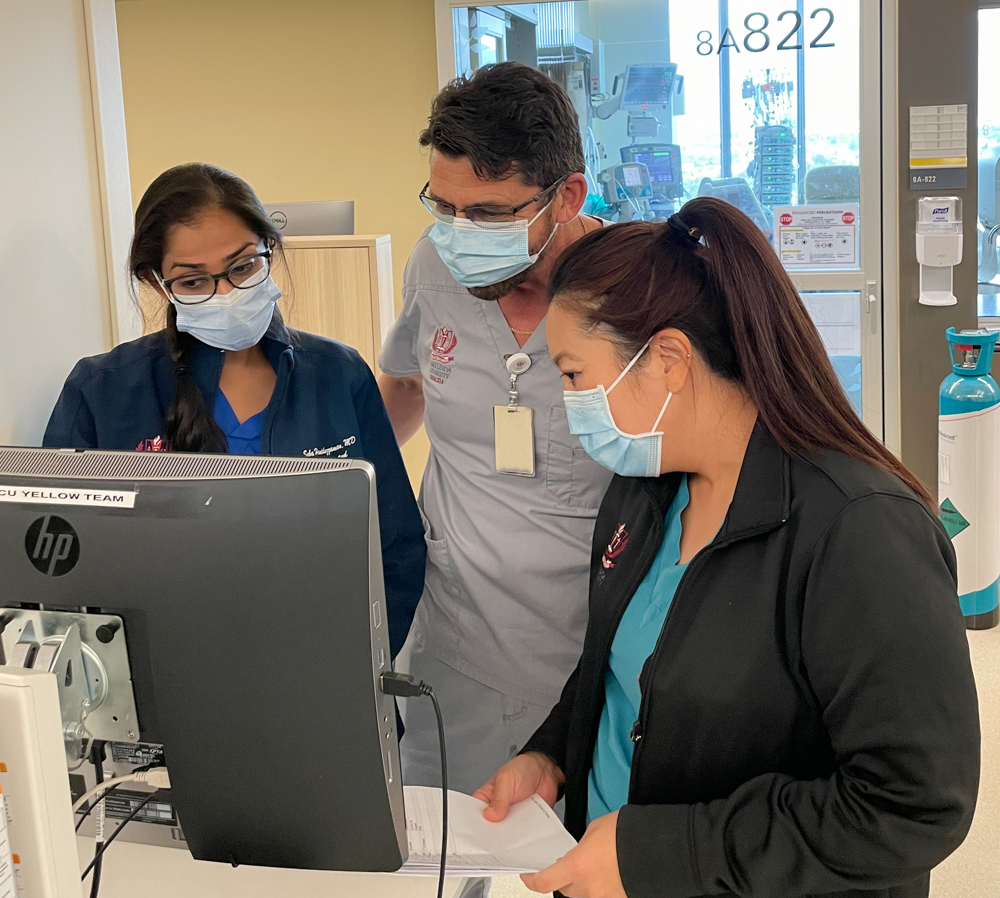 Treating COVID patients has not only supported but underscored LLU care teams' multi-disciplinary approach to providing care, Tan says. For example, he says in addition to nursing, respiratory therapist, physical therapist, speech therapist, dieticians and additional support staff, infectious disease specialists, rheumatologists, pulmonologists, and palliative care specialists have served instrumental roles in this care effort.
The Dennis and Carol Troesh Medical Campus's straightforward layout facilitates such interdisciplinary interactions, Tan says. For instance, the end of each unit's hallway serves as a dedicated workstation for attending physicians and residents taking care of the patients. Such an organization creates reliability and predictability when reaching certain care team members to engage in multi-disciplinary discussion.
"I wholeheartedly believe that God was leading us on how we conceptualized and started construction on the Dennis and Carol Troesh Medical Campus way before the pandemic struck, and yet now we see how His guiding hands have readily prepared us to meet the needs of COVID patients," Tan says.
---
To learn more about the Dennis and Carol Troesh Medical Campus, explore its features, take a virtual tour, and read messages from our community.