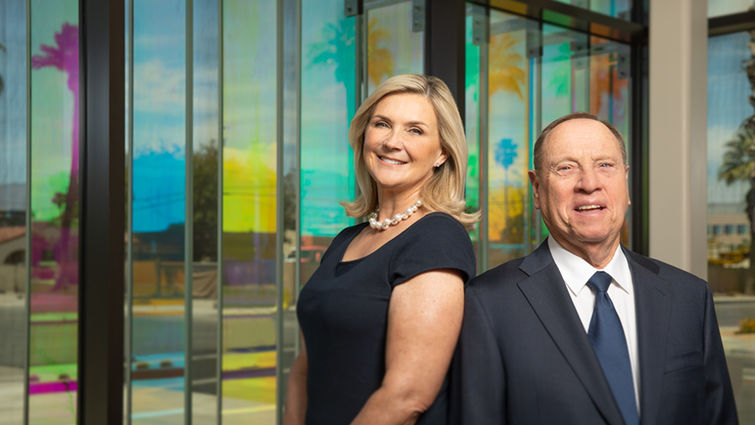 When Jill and Barry Golden moved to the Coachella Valley, Jill decided it was important for her to become immersed in the region's life and culture. 
The Coachella Valley is home to nine desert communitiesthat are filled with residents committed to giving back. There are more than 800 non-profit organizations with offices in the region. 
"Everyone here has a charity that's close to their hearts," Jill said. "As friends, we support each other."
One day a Golden family friend, who at the time was serving as president of the Big Hearts for Little Hearts Desert Guild, approached the couple, asking them to consider supporting Loma Linda University Children's Hospital. After hearing how the Guild raises funds and brings awareness to the health needs of community children, the Goldens agreed.
"Her charity had 'children's' in the name, so it must be a good cause," Jill said. "We wrote a check to support her endeavors, and we moved on with our lives." 
But soon Jill and Barry were touched by Loma Linda University Children's Hospital in a life-changing way.
Shortly after their arrival in the Coachella Valley, Jill bought a date farm. Working alongside ranch hands, she began to understand their hardships. One day an incident occurred that brought Loma Linda University Children's Hospital back into the Goldens' lives.
"One of our ranch hands had a son who ended up in respiratory distress," Jill recalled. " I went with them to a local hospital." The boy was released after three days, but soon was forced to return to the emergency room. At that point doctors determined that the boy needed to be transferred to Loma Linda University Children's Hospital.
"I watched the Loma Linda University Health transport team in action," Jill said. "They integrated the current care, then carefully began the transport. The team worked with the local hospital to ease the family's concerns."
The boy spent a month, including the Thanksgiving holiday in Children's Hospital intensive care unit. Jill was a regular presence. She watched the caring actions of the staff and the administration. She also watched families come and go. Some of them took their children home. Some didn't.
"I began to realize how much care we need in the Coachella Valley for our children," Jill said. "Parents here work so hard to make ends meet. When they need Loma Linda's services, they have to drive such a great distance. What we needed to do became apparent to both Barry and me, so we jumped on board with Loma Linda University Children's Hospital."
Jill and Barry came to feel that the Coachella Valley's children deserved the type of services Loma Linda University Children's Hospital offered, but locally. 
"Fortunately for us, Loma Linda University Health heard the voices from the desert, looked at the population, and said yes," Jill said. There are 130,000 children in the Coachella Valley, and Loma Linda University Children's Hospital treats some 18,000 of them each year. But many of them have to travel an hour and a half one way to Loma Linda.
"I'm a farmer in the East Valley," Jill said. "I've seen what language barriers and financial constraints can cause. Loma Linda University Health leaders fully immersed themselves in learning the culture and understanding the need first hand. They swiftly assessed the situation and took action. You don't normally see that in a hospital administration. I applaud Loma Linda University Health for that."
"I love Jill's sensitivity toward helping people. It's a great attribute to have," Barry said. "I watched Jill for a year and a half on her Loma Linda journey. I watched. Wrote checks. Watched some more. Wrote more checks." But soon Barry caught the vision Jill was seeing.
"It's great to know that a child who's really sick in Coachella can get to this clinic in five minutes," he said. "It's going to change thousands of lives." 
Looking back, that initial donation made out of respect for a friend became a seed for what grew into an ongoing commitment to a cause. 
During the 2017 holiday season, Jill and Barry rallied friends and colleagues to accompany them to the Children's Hospital for a Santa stroll. A number in the group put on Santa hats or elf suits, and shared toys and gifts to the children and their parents. 
"When we got into the car to come home, I looked at Jill and said, 'Let's make the commitment." It's the best thing we've ever done in our lives. This is our gift."
The Goldens committed the lead gift to support the opening of the Loma Linda University Children's Health – Indio in the city's downtown. The clinic's Jill and Barry Golden Pavilion was named in recognition of their generous gift. The facility is the largest pediatric clinic in the area. The Indio project advances Loma Linda University Health's commitment to healthier communities through its Vision 2020—The Campaign for a Whole Tomorrow.
"My mission right now is to help families and kids," Barry said. "To see a facility like this one brings a great feeling of satisfaction. This clinic in Indio will grow, and bigger things will come after it. There are so many ways to help, whether you share your time at the Santa Stroll or Bunny Hop, participate in local Guild activities or write a check. All those ways are equally important, because you're supporting care for those deserving children. You're either on board or you're not. Right now, I'm on board, And Jill's on board. And it's a great feeling to know the right things are being done."
More information about the Loma Linda University Children's Health – Indio is available on the clinic's website.