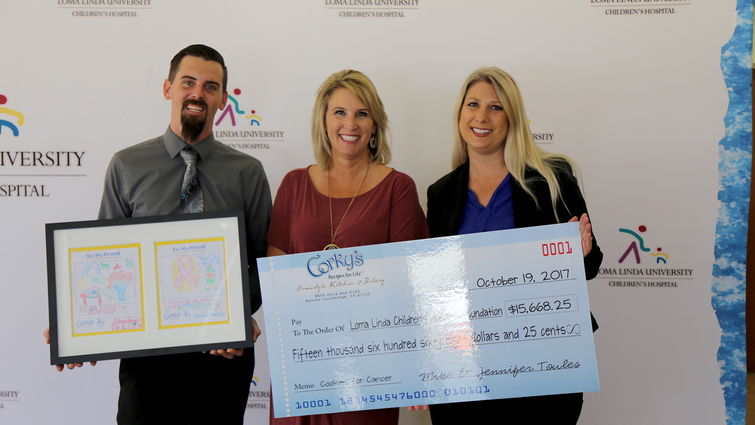 Corky's Homestyle Kitchen and Bakery made a special delivery to Loma Linda University Children's Hospital (LLUCH) for patients battling cancer. On Thursday, Oct. 19, representatives from the restaurant presented to the hospital a check for over $15,000, which was raised during the month of September, pediatric cancer awareness month.
The restaurant hosted its 4th annual "Corky's Cookies 4 Cancer" fundraiser selling gold ribbon cookies at their 10 locations. For each gold ribbon cookie sold, Corky's donated $1 to LLUCH, and an additional 25 cents was donated from each of their regular cookies sold.
Over 18,000 cookies were sold in 30 days between all 10 Corky's restaurants located in Orange County and the Inland Empire.
Joe Perry, VP of finance for LLUCH thanked Corky's for all their hard work. "It really makes a difference," he said.
According to Darin Handlen, corporate training manager, the funds raised in 2017 are double what was raised the first year of the fundraiser in 2013. "We also exceeded this year's goal by about $700, and we only hope these numbers will increase in the future."