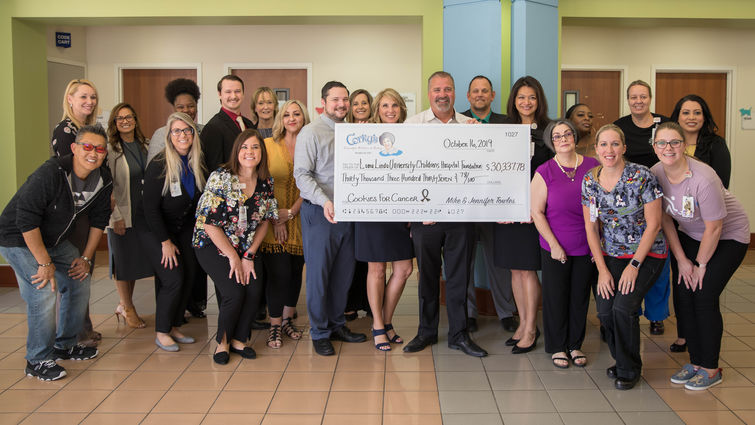 Corky's Kitchen and Bakery held its 6th annual Cookies for Cancer fundraiser during September — Pediatric Cancer Awareness Month — raising $30,337 to benefit hematology and oncology patients at Loma Linda University Children's Hospital.
More than 30 representatives from Corky's, including administration and staff, visited Children's Hospital last week to deliver the check.
During the month-long fundraiser, all 11 Southern California Corky's locations, with the help of their incredible staff, invited restaurant guests to purchase a special gold ribbon cookie — the gold ribbon is an international awareness symbol for childhood cancer.
For every gold ribbon cookie sold, Corky's donated $1 for cancer patients and 25 cents for all other cookies sold during September. According to Corky's, the chain sold more than 41,500 cookies in just 30 days.
The top four Corky's locations that sold the most cookies were Yucaipa, Ladera Ranch, Rancho Cucamonga and Perris.
Over the past six years, Corky's has continually supported Children's Hospital and the hospital's patients, donating more than $95,000 through cookie sales.