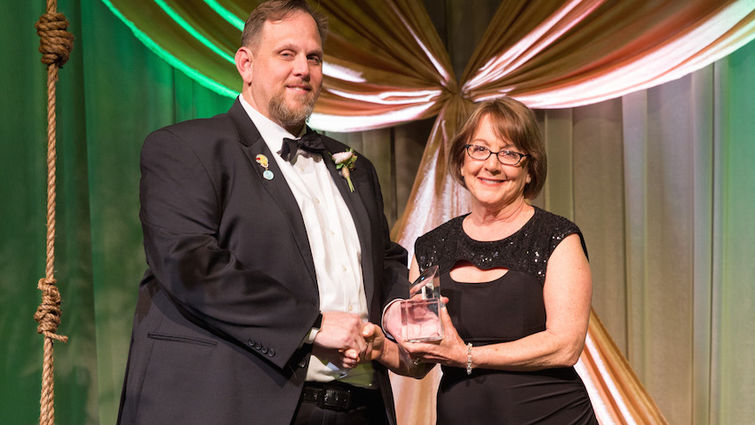 The 24th annual Foundation Storybook Gala was an enchanting success, raising over $1.2 million for Loma Linda University Children's Hospital (LLUCH). However, the event was more than about raising money – it was also an opportunity to recognize key organizations and individuals who are essential to the hospital's success.
Four awards were presented during this year's event, which took place at the Riverside Convention Center on Feb. 16.
Alane Allbee, RN, was presented with the Hometown Hero Award, which recognizes the contributions of individuals who share a passion for children and help enrich the quality of life in the community.
A charge nurse on the hematology/oncology unit at LLUCH, Allbee goes beyond the call of duty. She created the Spirit of Christmas project 25 years ago that she and other nurses work on all year to provide personalized gifts for patient families in need in the Inland Empire.
"I went in to nursing to make a difference in the lives of children," Allbee said. "I want every patient to know that we are a second home for them, and we give our best."
The Outstanding Clinician Award was presented to Stephen Ashwal, MD, a pediatric neurologist at LLUCH. The award recognizes individuals who have demonstrated a lifelong dedication and distinguished service provided to children and who, through their professional career and advocacy, have demonstrated the desire and motivation to improve the lives of children in the Inland Empire.
Now the chief of pediatric neurology, Ashwal joined LLUCH more than 40 years ago and has influenced more than a generation of pediatricians internationally through his research and care of children.
Frank and Mary Ann Xavier were honored with the Discover Lifetime Achievement Award, which recognizes outstanding dedication and lifetime distinguished service to children through their personal and professional lives.
"Few people have identified with our mission and culture like the Xaviers," said Richard H. Hart, MD, DrPH, president, Loma Linda University Health. "Their participation in many events and commitment to our future is exemplary, and I am delighted to recognize them in this way."
The fourth and final award presented during the gala was the Shirley N. Pettis Award, and it was given to Farmer Boys. The award recognizes those who, through volunteerism and community service, have demonstrated the desire and motivation to improve the lives of children in the Inland Empire.
Farmer Boys has raised more $655,000 for LLUCH over the past 16 years benefiting nearly every unit at the hospital. Restaurant founder and CEO, Demetris Havadjias, along with President and COO, Karen Eadon, accepted the award on behalf of Farmer Boys.
"It makes our job so much more meaningful when we're doing something that's making a difference in the lives of people," Eadon said of their most recent fundraiser for the hospital, "and for us that means so much."