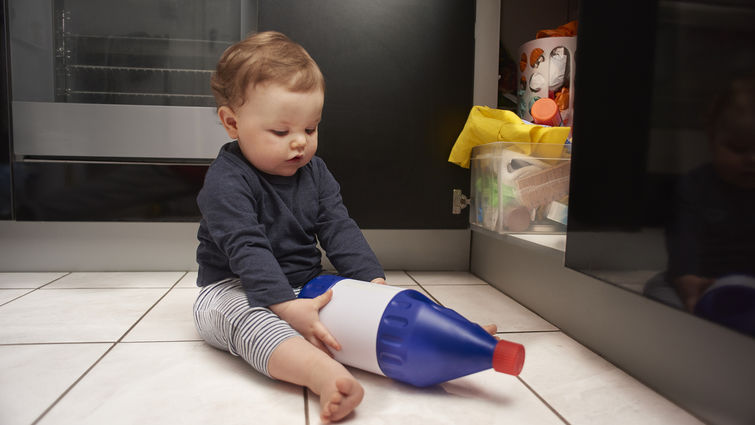 This week is Poison Prevention Week, reminding us of the dangers that can be lurking in plain sight throughout our homes. According to the Centers for Disease Control and Prevention, more than 300 children in the United States between birth and 18 years of age are taken to an emergency department each day due to being poisoned. Of those 300 children, at least two die from the poisoning. 
James A. Moynihan, DO, medical director of pediatric emergency medicine at Loma Linda University Medical Center and pediatric specialist at Loma Linda University Children's Hospital reminds parents that many common household items could pose a threat to the health of a child.
"It's imperative for parents to be aware of the potential poisons their children are exposed to," Moynihan says. "The best way to keep your child safe from accidental poisoning is through prevention."
Moynihan says these are some common products found around a home that could lead to serious injury or death if ingested by a child:
Alcohol
Lithium batteries
Bug spray
Pesticides
Household cleaners
Liquid and pod laundry/dishwasher detergent
Medications, vitamins and supplements
Hydrocarbons (gasoline, oils, paint thinners)
Liquid nicotine used in E-cigarettes
"If a bottle of dishwashing detergent or especially dishwasher pods are underneath the kitchen sink, it takes only a few seconds for an unmonitored child to hurt themselves," Moynihan says. "Don't allow poisons to be easily accessible to your children."
He suggests parents keep poisons in their original containers or use child-resistant packaging, lock poisons in elevated cabinets and far away from any food storage locations to reduce the chance of a child accidentally ingesting those items.
While prevention is key to keeping children safe from common household poisons, accidents do happen, and it's crucial to have a plan says Moynihan. "Call Poison Control before calling the doctor," Moynihan says. "Poisons act fast, and you may not get through or get to the doctor quickly enough. Poison Control has the experience and resources to help you immediately."
Moynihan provides these tips in case of poisoning:
Add the National Poison Control Hotline (1-800-222-1222) to your favorites on your cell phone. Have the number displayed prominently in your home in case of emergency.
Follow the instructions of the hotline — don't try to induce your child's vomiting unless instructed.
When seeking treatment at a medical facility, bring the original poison container. This will help medical professionals treat your child most effectively.
During this week of poison prevention and awareness, help educate your family, friends and coworkers about the poisons in their homes and provide a strategy to treat a child in case of emergency.
If you suspect your child has been poisoned and is unconscious, having convulsions or not breathing, call 911. If your child has mild or no symptoms, call the National Poison Control Hotline at 1-800-222-1222.
At Loma Linda University Medical Center, our dedicated adult and pediatric emergency departments are staffed by board-certified emergency medicine doctors, advanced practice providers and nurses 24 hours a day, seven days a week. We are a Level 1 Adult and Level 1 Pediatric Trauma center for San Bernardino, Riverside and Inyo counties.
To learn more about the pediatric emergency department, visit our website, or call 909-558-8216.