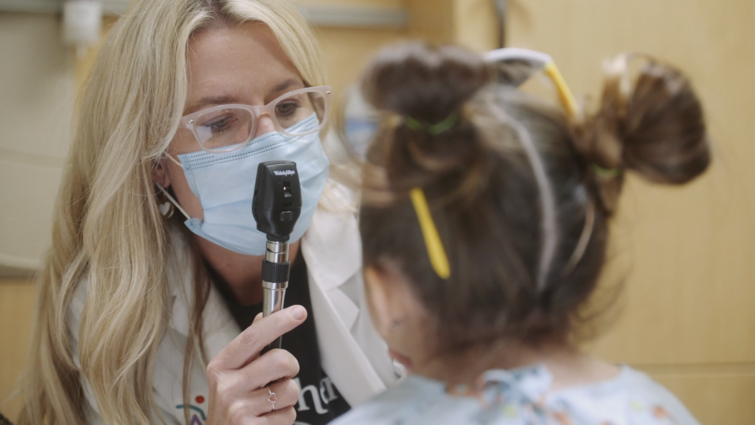 Loma Linda University Children's Hospital will receive $4 million in funding from the state of California to support a program to provide seamless medical care and mental health services to children in the Inland Empire who have been victims of trauma, such as abuse, neglect, and maltreatment.
The program, located at a clinic in Loma Linda, known as the Resiliency Institute for Childhood Adversity or RICA, is available to all children but is especially focused on children who have experienced foster care. RICA providers are trained in understanding and delivering holistic trauma-informed pediatric care.
Amy Young, MD, chief of the division of forensic pediatrics at Children's Hospital, was one of the leads in creating the program proposal, which was submitted to the state in 2019 but was held up by the pandemic. From there, Assembly Member James Ramos and Senator Rosilicie Ochoa Bogh were instrumental in lobbying for the program's support. Governor Gavin Newsom signed the funding into California's fiscal year budget on June 30. 
"This funding will make a significant difference in the lives and health of our region's most vulnerable children," said Trevor Wright, CEO of Loma Linda University Health hospitals. "We will now be able to continue to provide mental health and physical care to youth who often fall through the cracks of the system. We deeply appreciate the efforts of James Ramos and Rosilicie Ochoa Bogh and their work to get this funding into this year's California budget."
Young said she was overwhelmed when she received the news. "I had really given up hope," she said. "After all we'd done to make a case for these children, I just couldn't believe it. The state funding is crucial to the program to meet the needs of children in our community coping with the impacts of childhood adversity, including child abuse and neglect."
Since the 1990s, Children's Hospital had a team of providers overseeing forensic investigation cases of suspected child abuse — one of the only teams of providers for the entire county of San Bernardino, parts of Mono and Inyo counties, and even receiving many severe cases from Riverside County. However, the team was only included in the investigative phase, Young said. Once their professional opinion was rendered and testified in court, they would have to move to the next case and wouldn't see the child again unless they were under the same investigative circumstances, such as re-injury and continued abuse.
San Bernardino County has the second largest population of foster youth in California, and until now, there was no system of coordinated medical care for children — meaning if they moved, their medical care would not move with them. This was the inspiration behind RICA, said Young.
"Their life is constantly in flux," she said. "With this program, we're hoping to develop hubs out in the regions where their care — mental and physical — will be established within the first few days of being placed in foster care. Our program will continue to serve as the health home for vulnerable children, even as their foster care placements may change."